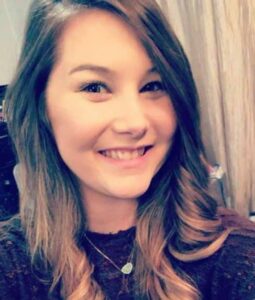 Welcome to Ruthies Notions blog, my name is Ashton for any of you who do not know me. I have been working for Ruthie for four years now. When I started working for Ruth I was completely new to embroidery. I had no idea what stabilizer was, needles, bobbins, or which thread to use to even get started to create a simple project. The only type of crafting I had done prior was painting or helping my granny sew together blankets or doll clothes (she did most of the work but I helped).
Many have asked how it all started? Well, Ruthie called me one day and asked me if I would be interested in a Babylock Elegante sewing and embroidery machine. Of course, I wanted it I have always been intrigued by the beauty of being creative with these machines. From there I had some training in which I was grasping great or so I thought.  Until I got home and realized I really enjoyed the comfort of Andi being there with me. I had no idea where to even get started, it was like I almost just completely forgot everything she had taught me because I was so nervous I would hurt the machine.
Lesson learned, to take it a day at a time and improve my skills. Everything I was making at the time I was so frustrated because I wanted it to be perfect. Since I was new, there was a lot of user error and my projects didn't turn out how I wanted. However, through all of that trial and error with my Elegante, I learned so much about not only myself but embroidery. This may sound strange but embroidery taught me a lot of patience. I didn't have to create the most perfect project in order for it to be a "good" learning experience. My most complicated projects or mess-ups taught me the most. I learned what not to do and if it did happen not to panic and how to fix it. Not only did it teach me how to troubleshoot it taught me that I didn't have to know everything right out the gate. Taking my time learning things allowed me to PERFECT my projects. Through all these mess up's I learned what stabilizers worked best, which needle to use, that there were different weight threads, and which hoop worked best. I also learned running your machine at a high pace wasn't always the best. As Aesop would say, " Slow and Steady Wins the race".
I started working for Ruthie shortly out of high school. When I started the Baby Lock 10 Needle really intimidated me. Let's be honest it looks like a giant booger, but let me tell you it's one of the easiest machines I ever got my hands on….. you know once I got the kinks worked out. For example, whenever I was threading I would wrap my thread around the wrong dial or miss a hole along the way. Which kept causing my machine to stop, I wouldn't put my bobbin case in all the way. Which if any of you have done this you already know the headache that caused. It creates a HUGE bird's nest inside the machine. I didn't even know how to attach a Durkee hoop arm onto my machine. It took me days to figure out it slid into the A-arm.
These frustrating circumstances helped me tremendously even though I didn't realize it at the time. I now know the ten needle like the back of my hand and could probably tell you how to operate it in my sleep. Many customers call me the "10 needle queen", and I earned that name all through these circumstances. If you are new to this by all means I understand its overwhelming and stressful. I was there too, I made silly mistakes. There probably won't be something you tell me that I didn't do. So no judgment here. I want you to know It does get better, learn from your mistakes because they aren't mistakes. They truly are blessings in disguise and will help shape how your future projects turn out.
At Ruthie's we really strive to make sure you know your machines that way, you can get the most out of it. We personally understand it is overwhelming, but we want to make this experience as smooth as possible. We offer free one on one training with a machine purchase and offer classes to further your education. Many who have bought 10 needles from us have me on speed dial if they are having issues. We are here to support you and help you learn.  When you come to Ruthies you truly are in good hands. I am thankful to be a part of this team. Not only do we sell machines and offer sewing and embroidery classes, but we also offer friendship, a place to gather to enjoy the same passion as one another, and most importantly share about our lord and savior Jesus Christ.
Thank you all who took the time to read this post.
XOXO,
Ashton