Ruthies Notions in Baker FL is planning some of the very best Make It and Take It classes and lecture demos with the absolute best teachers in the industry today! We only list classes a few months in advance. Sign up early as classes fill up fast!!
Please add a working email you have access to when signing up because future classes and updates will be sent there.
You are going to love all the new classes coming in 2023!!
To sign up for any of the following classes just simply click on the "Register" link under the class.
OESD Embroidery Essentials – Pick-A-Day
Join us and Kim Dodson on either May 26th or 27th, 2023
Cost is only $29, and you will receive a $29 gift certificate to use at the event. Plus, there will be huge sales during the event.
This is one of my favorite events. Kim is so knowledgeable, and does excellent work with OESD's design collections that are absolutely some of the most detailed designs I have ever seen.
We have a gorgeous selection of their master pieces on the walls plus Kim will bring samples.
Everyone will receive a gift worth $200 for attending. Plus there will be door prizes each day.
Lunch will be provided.
Sign up now before classes fills up!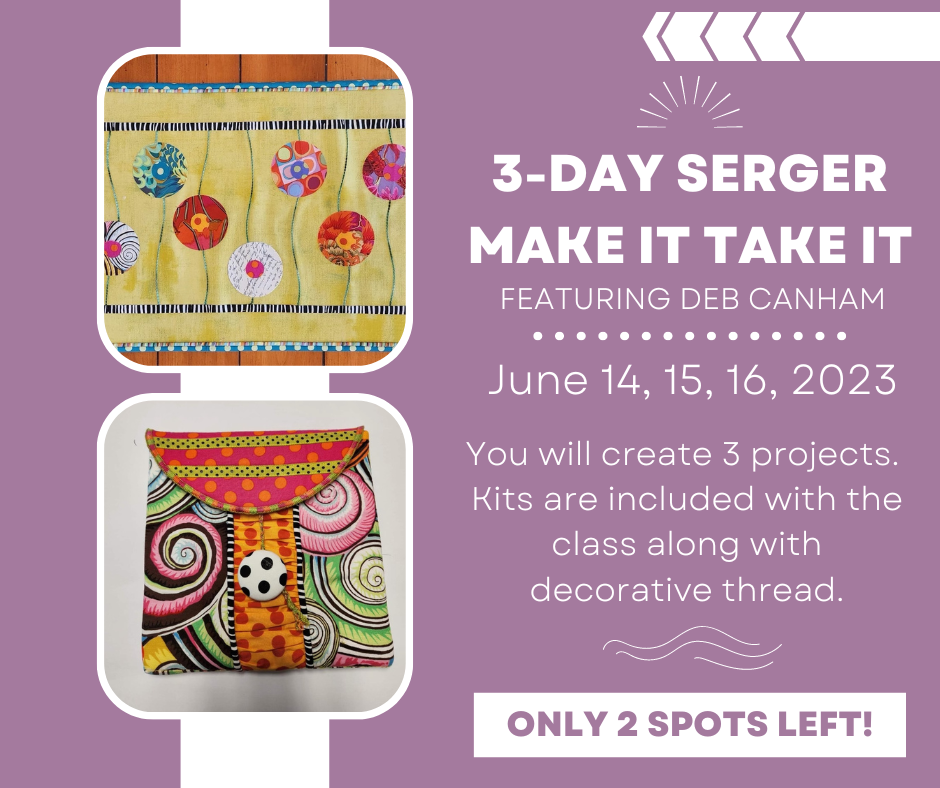 3-Day Serger Make It Take It Event
Join us and Deb Canham on June 14, 15, 16, 2023
The aim is to cover as many different serger techniques as possible over the three days. There will be 3 projects and the kits will be included with the class along with decorative thread.
ONLY 2 SPOTS LEFT!
–>>Sign Up for June 14, 15, 16<<–
Making Garments on the Serger
Join us and Deb Canham on June 17th, 2023
Deb will make a t-shirt and show the various choices you ahve with these machines to successfully achieve a professional garment including children's clothing.
There will be prize drawings and lunch.
–>>Sign Up for June 17th<<–
4-Day Christmas in July Event
Featuring Andrea Boucher-Goodine July 12th, 13th, 14th & 15th, 2023
We are doing our first ever 4-Day Christmas in July! These four days will be loaded with awesome ways to celebrate Christmas using all your wonderful machines to the MAX! Learn so many awesome techniques and possibilities you never thought you could do!
Andrea is so creative and loves adding art to projects using these wonderful machines. You will be amazed at the end of these four days.
No where in the USA can you get this class that we are offering. Plus, it is FREE!!
Can you stand it!
Take your passion for sewing and embroidery to the absolute max and further – praise God almighty of love.
Sign up and be sure to come for all 4 days! We will be giving away a machine worth $999 on Saturday at 4:00pm. You must be present to win!
We will also have lots of door prizes each day!
–>>Sign Up for July 12, 13, 14, 15<<–