Ruthies Notions in Baker FL is planning some of the very best Make It and Take It classes and lecture demos with the absolute best teachers in the industry today! We only list classes a few months in advance. Sign up early as classes fill up fast!!
Please add a working email you have access to when signing up because future classes and updates will be sent there.
You are going to love all the new classes coming in 2023!!
To sign up for any of the following classes just simply click on the "Register" link under the class.
2 Day Make It,Take It Dream Big Rose Panel Featuring Donna Clements March 17th and 18th, 2023
Join Donna for this awesome two-day class you have ever taken! You will be learning how to free motion on your Luminaire/Solaris, Destiny/Dream machine, Stellaire sewing/embroidery, and Altair. You will be learning how to fill your petals, how to "foe" stitch n the ditch, what threads to use, create invisible binding, and how to use your machine.
This class is $198.00.00 Kit and Lunch Included.
Door Open @ 9:00 a.m.
Class times: 10:00 a.m.-4:00 p.m.
–>> REGISTER HERE FOR March 17th and 18th,2023 CLASS <<–
Deep Dive into the Stellaire & Luminaire XP3 With Tina Bartelmay March 28th,2023
Join Ruthies Notions and Tina Bartelmay from Brother Tuesday, March 28th, 2023, @ 1:30 CST for a Live Demonstration on Youtube and Facebook! In this class, Tina will demonstrate the cool and exciting capabilities of the stellaire and the luminaire!
This Class is FREE
LIVE ON YOUTUBE AND FACEBOOK!! MARCH 28TH 2023, @1:30PM
–>> Facebook  <<–
–>> Youtube <<–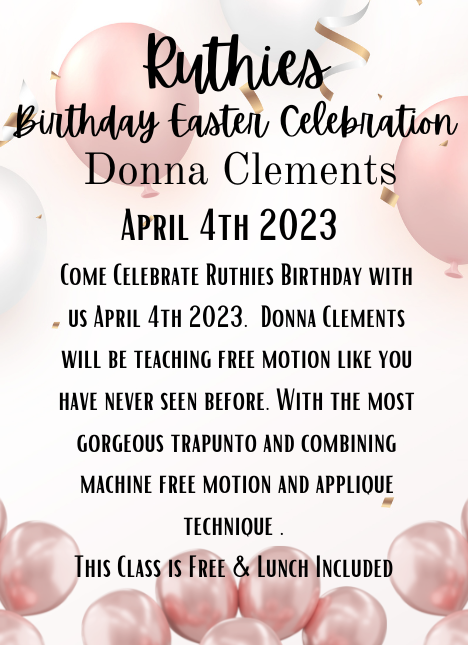 Ruthies Birthday and Easter Celebration on April 4th, 2023.
Come Celebrate Ruthies Birthday with us April 4th 2023. Donna Clements will be teaching free motion like you have never seen before. With the most gorgeous trapunto and combining machine free motion and applique technique . This Class is Free & Lunch Included you wont want to miss it!
–>> REGISTER HERE FOR April 4th,2023 CLASS <<–
Deep Dive into the Scan N Cut Dx With Tina Bartelmay April 11th,2023 @1:30
Join Tina Bartelmay on April 11th, 2023, to learn about your Scan n cut dx and its features and capabilities. This live class will be broadcasted on Facebook and youtube, and you can rewatch it later!
This Class is FREE
LIVE ON YOUTUBE AND FACEBOOK!! April 11TH 2023, @1:30PM
–>> Facebook  <<–
–>> Youtube <<–