Ruthies Notions in Baker FL is planning some of the very best hands-on classes and lecture demos with the absolute best teachers in the industry today! We only list classes a few months in advance. Sign up early as classes fill up fast!!
You are going to love all the new classes coming in 2018!!!
---
Full List of Upcoming Classes
To sign up for any of the following classes just simply click on the "Register" link under each
---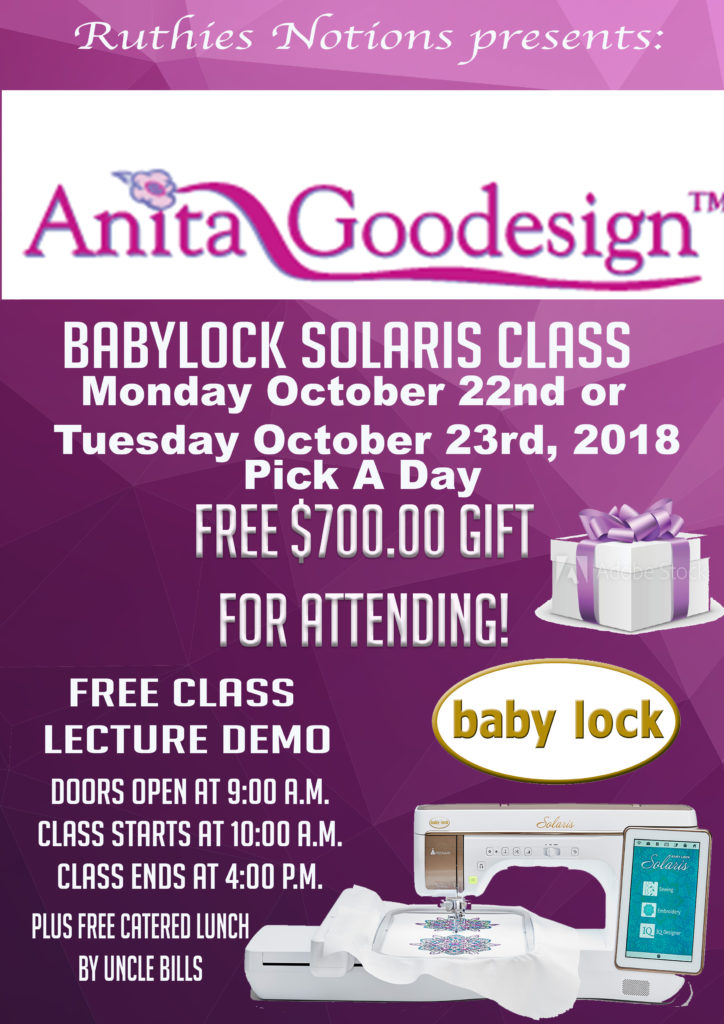 Ruthies Notions Presents: Anitagooddesign Babylock Solaris October Fest! Monday October 22nd or Tuesday October 23rd, 2018 PICK A DAY
!!!!!!! FREE $700.00 GIFT FOR ATTENDING!!!!!!!!!!!
Free AnitaGoodDesign Babylock Solaris Class. Come learn the endless possibility of the Babylock Solaris from opening the endless possibility of the IQ designer, embroidery world to finishing with the excellence of new sewing features. We will explore the infinite possibilities collaborating with AnitaGoodDesign and Brand New Solaris.
Seating very limited
We can only hold so many people so SIGN UP NOW! Doors open at 9:00 A.M. class time 10:00 A.M.- 4:00 P.M.
Plus Free Catered Lunch by Uncle Bills.
---
Deb Canham October 20th, 2018 Variety day Lecture Demo
Learn all about exciting ways to use your serger and embroidery/ sewing machine.
Deb does an awesome job with IQ and my Design Center too.
Wait till you see her exciting projects she will teach you how to do.
This class is Free
Our Gift to you!
Doors open at 9:00 a.m. Class is 10:00 a.m. to 4:00 P.m.
Lunch is included also!
---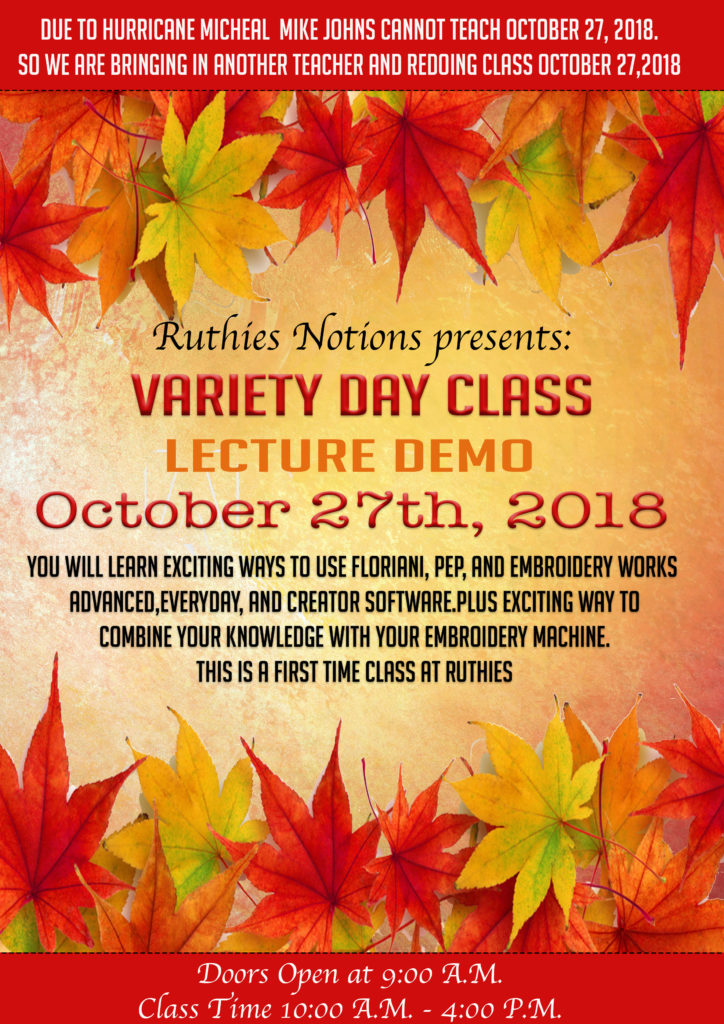 Ruthies Notions Presents: Variety Day October 27th, 2018
Due to Hurricane Micheal Mike Johns cannot be here to teach October 27, 2018. So we are bringing in a different teacher. We are redoing the Palette 11 and Pe 11 November 1st, 2018.
Learn exciting ways to use Floriani, Pep, everyday, advanced, and creator 3 software. Plus exciting ways to combine your knowledge to how to use them with your embroidery machine. The is the first time this class has ever been taught at Ruthies Notions .
Doors open at 9:00A.M.
Class starts at 10:00 A.M.
Class ends at 4:00 P.M.
–>> REGISTER HERE FOR OCT 27th CLASS <<–
---
Ruthies Notions Presents: Mike Johns November 1st, 2018 – Introduction to Palette 11/PE Design 11 Digitizing Software
Have you recently purchased Palette 11 or PE Design 11 Digitizing Software (or was it included with you new Solaris/Luminaire) and are curious of what all you can do with it?  Are you interested in PhotoStitch but don't know where to start?  Are you curious about digitizing?  Well this is the class for you!  This is a lecture/demo class where Mike Johns will walk you through the basic functions of the latest digitizing software from Baby Lock/Brother.  Palette 11/PE Design 11 works with the wireless capabilities of the new Baby Lock Solaris and Brother Luminaire and  Mike will show you just how easy it is to set up and use the wireless features with your new machine.  This is a free class and as always a delicious catered lunch will be provided.
–>> REGISTER HERE FOR CLASS <<–
---
Ruthies Notions Presents: Mike Johns Scan N Cut Extravaganza November 2nd, 2018
Come Join Mike as he walks you through all the New amazing features of the Scan N Cut Dx and Scan N Cut! While also showing you how to push your machines to the limits! This class is going to be awesome you don't want to miss it!
Doors open at 9:00 A.M.
Class starts at 10:00 A.M.
Class ends at 4:00 P.M.
Ruthies Notions Spectacular Hands on Rose class Featuring Tracey sims November 13, 2018
The most Beautiful Rose class taught by Tracey Sims hands on embroidery class. Come take your Embroidery to a whole new exciting level. These new techniques Tracey will show you will have you amazed! While creating this beautiful piece to add to your collection!
This class is only $148.00 Kit included
Please LOOK at this link for requirements and supplies for class
---
Ruthies Notions 2 Day Hands on Embroidery Heirloom Piece with Tracey Sims November 15 &16, 2018
This is a hands on beautiful Heirloom Piece featuring so many wonderful techniques to create a beautiful work of art by Tracey Sims.
Only $248.00 Kit included.
Please LOOK at this link for requirements and supplies for class
---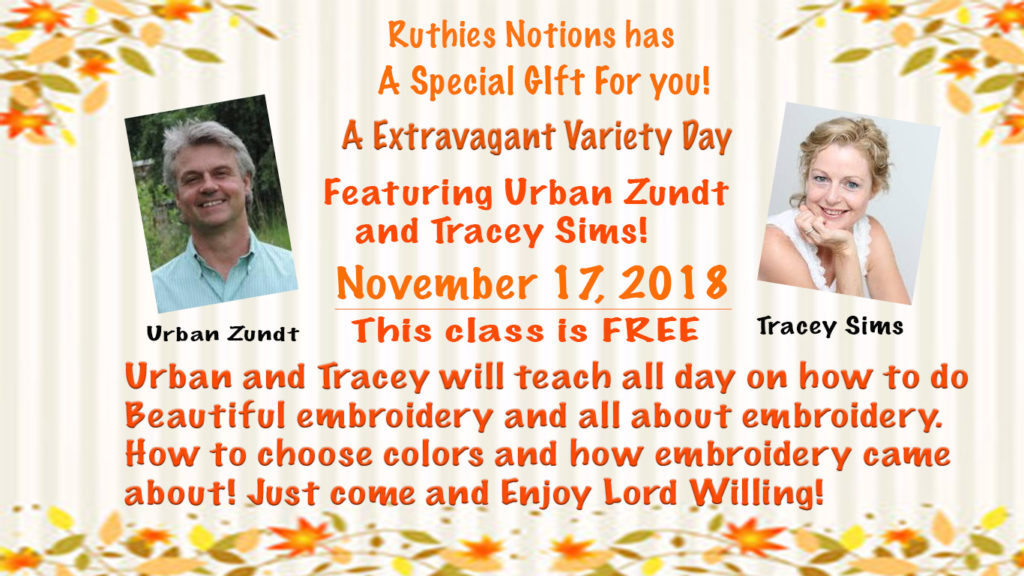 Ruthies Notions Extravagant Variety Day November 17, 2018 Featuring Urban Zundt and Tracey Sims
Urban Zundt and Tracey Sims will teach all day on how to do beautiful embroidery and all about embroidery. How to choose colors and how embroidery came about.
Just come on and enjoy an awesome blessed day lord willing.
This class is our gift to you!
We will also have a free catered lunch by Uncle bills
---
Floriani New and Exciting Educational Classes
If you love to embroider and quilt, these classes are for you!!
Event Days: November 29th or 30th
Software Day: December 1st
Regardless of what type of machine you own, the tips, tricks and techniques you will learn at this event will inspire you.
Register Now for Free!!
Whether you are a master or a novice, Floriani Embroidery Basics is the perfect event for you to take your embroidery to the next level! These amazing educational classes are filled with industry secrets that will inspire your creativity. With lessons covering everything from selecting materials for your projects to the tricks that will perfect your craft! Never again will you have to worry over ruined garments, puckered embroideries and off-center designs!
Each day there will be a wonderful catered lunch provided.
Sign Up today!! Don't miss out!!
---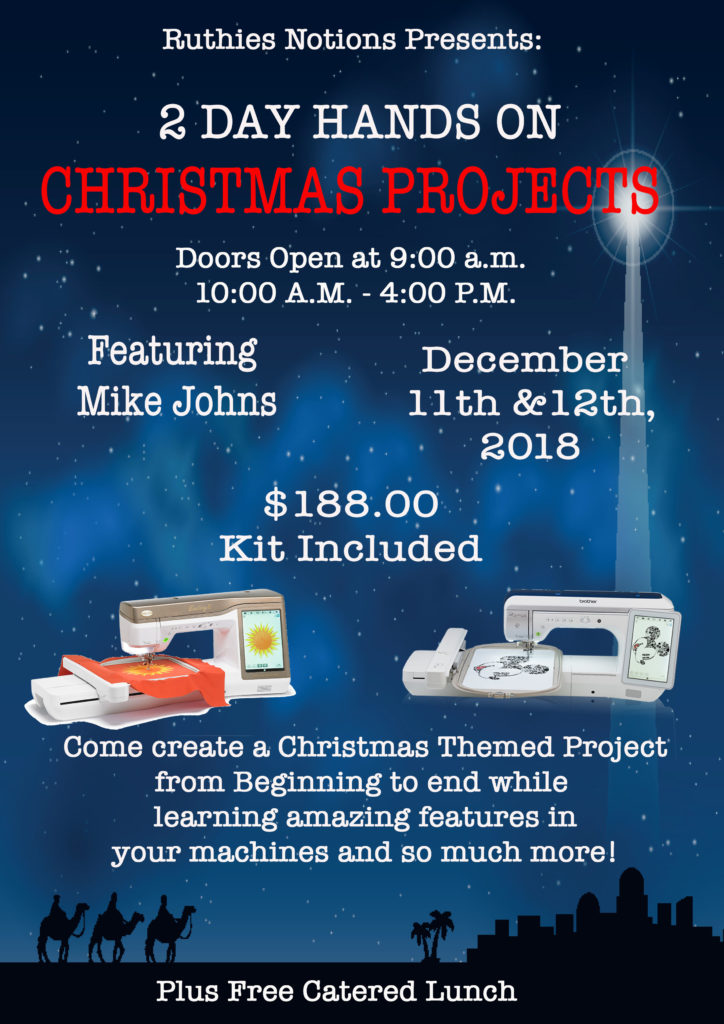 Ruthies Notions Presents: December 11-12, 2018 – Hands-On Christmas Embroidery Project Class with Mike Johns
It's time for another project based hands-on Solaris/Luminaire/Destiny/Dream class and this time it's all about Christmas!  Join Mike as he walks you through a fun Christmas themed project from beginning to end.  You will learn how to use the amazing built-in features of your machine to make the creation process easy and stress free.  Wether you are a novice or a more advanced stitcher, you are sure to learn something new in this class!  Each attendee should bring his/her embroidery machine, accessories and basic sewing kit.   All materials and notions will be provided in a kit which is included in the class fee of $188.00.  A list of required threads and hoops will be posted prior to the class.  A wonderful, fully catered meal will be provided each day.  Space is limited, so be sure to sign up early to ensure your spot!
–>> REGISTER HERE FOR CLASS <<–