Ruthies Notions in Baker FL is planning some of the very best Make It and Take It classes and lecture demos with the absolute best teachers in the industry today! We only list classes a few months in advance. Sign up early as classes fill up fast!!
Please add a working email you have access to when signing up because future classes and updates will be sent there.
You are going to love all the new classes coming in 2020 and 2021!!
To sign up for any of the following classes just simply click on the "Register" link under the class.
Anita Goodesign 301 Christmas Event December 3rd, 4th, or 5th, 2020 PICK A DAY
 This is Ruthies Christmas gift to you!
We are excited to announce the newest class offering to hit the Anita's University campus, Next Level Embroidery 301! Whether you have attended our prior 101 or 201 classes from Anita's University, or if this is your first time joining us, you'll be amazed at the new things that you will learn! During the 301 class we are going to explore many different embroidery techniques — such as heirloom stitching, free standing lace, and coloring your embroidery project. We'll take a closer look at unique appliqué methods such as watercolor appliqué, reverse appliqué, ghost stitch appliqué and so many more. Thinking outside the hoop, we'll visit dimensional designs through button-up embroidery & our reverse trapunto method.
This is only the beginning of the education you'll receive, and we can't even describe how much fun you'll have! Make sure you're not left behind by your classmates, register for Anita University's newest class offering, Next Level Embroidery 301 Today!
Only $8.88
Catered Lunch Included
Doors open at 9:00 A.m.
Class times 10:00 a.m.- 4:00 p.m.
–>> REGISTER HERE FOR December 3rd, 2020 CLASS <<–
–>> REGISTER HERE FOR December 4th, 2020 CLASS <<–
–>> REGISTER HERE FOR December 5th, 2020 CLASS <<–
Oesd Virtual Embroidery Quilting Event December 4th, 2020
Learn how easy it is to piece AND quilt in your embroidery machine. Plus learn how some of your favorite OESD products can help you achieve amazing results on your quilts. We've put together an amazing virtual demo stuffed FULL of tips, tricks, and DEALS.
FREE CLASS
Join us Friday December 4th @ 11 a.m. CST.
Copy and paste the link below to register
https://www.eventbrite.com/e/ruthies-notions-virtual-embroidery-event-tickets-128773632401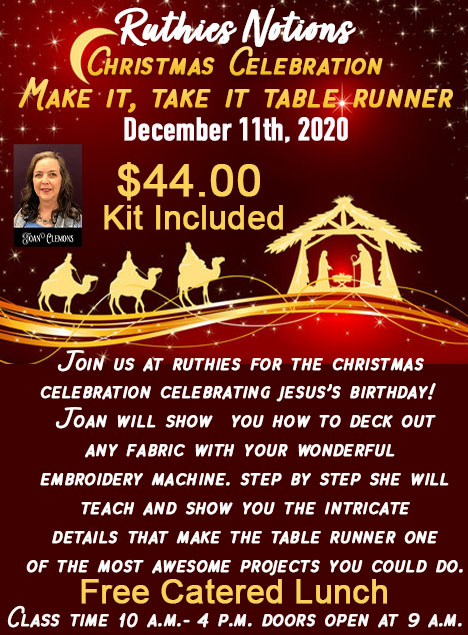 Christmas Celebration Celebrating Jesus's Birthday Featuring Joan Clemons December 11th, 2020 On Your Solaris/Luminaire or Destiny/Dream Machine or Stellarie Series/ Altair or Meridian
Join us at ruthies for the christmas celebration celebrating jesus's birthday! Joan will show you how to deck out any fabric with your wonderful embroidery machine. step by step she will teach and show you the intricate details that make the table runner one of the most awesome projects you could do.
This class is $44.00
Catered Lunch Included
Doors open at 9:00 A.m.
Class times 10:00 a.m.- 4:00 p.m.
–>> REGISTER HERE FOR December 11th, 2020 CLASS <<–
Jesus Birthday Christmas Celebration "Tis The Season For The Season With Joan Clemons And Joallyn Cartwright December 12th, 2020
Learn how to create beautiful works of art and stunning Christmas holiday decorations perfect for around yournhome. Using your Brother OR Babylock machine you
will love all of the neat tips and tricks shown in IQ or My Design Center! you will be opened up to a whole new creative side in this class. with Joan Clemons' vast and very knowledgable classes youll be able to go home and SEW LIKE A PRO! you will LOVE Joan and all of her
gorgeous creative ideas, thoughtful projects and samples!! She will dazzle you into the Christmas spirit with all of her amazing samples!We also have a special guest Joallyn Cartwright and she will be demonstrating awesome accesories to use!!
Do you get pain in your back, neck, shoulder, and hands when you quilt?
Have Arthritis or Carpal Tunnel?
You wont want to miss this special event!
Martelli tools make quilting easier, 100% accurate, and they eliminate
pain!
SPECIAL EVENT HOLIDAY PRICING!! SOME OF THE BEST DEALS
Free Class
Catered Lunch Included
Doors open at 9:00 A.m.
Class times 10:00 a.m.- 4:00 p.m.
–>> REGISTER HERE FOR December 12th, 2020 CLASS <<–