Ruthies Notions in Baker FL is planning some of the very best Make It and Take It classes and lecture demos with the absolute best teachers in the industry today! We only list classes a few months in advance. Sign up early as classes fill up fast!!
Please add a working email you have access to when signing up because future classes and updates will be sent there.
You are going to love all the new classes coming in 2021!!
To sign up for any of the following classes just simply click on the "Register" link under the class.
Awesome Serger Lecture Demo Class April 20th, 2021
If you are afraid of your serger or have not took it out of the box yet? Then this class is for you! If you have not ventured into learning your cover-stitch capabilities this class is for you. If you just want a refresher on so many awesome features! You will learn the basics of your serger beginning with how to thread, basic 3 and 4 thread overlock, chain and cover come join us for a day of serging learning and fun.
Free Class and catered lunch
Doors open at 9:00 a.m.
Class times 10:00 a.m.-4:00 p.m.
–>> REGISTER HERE FOR April 20th, 2021 CLASS <<–
Multi Needle Training Day Lecture Demo Featuring Sarah Berube April 24th, 2021
Join Sarah for a fun filled, learning day all about your Brother or Babylock multi needle, whether you are a beginner or just need a refresher this is the class for you! We will be going over the entire machine. She will be showing you everything from settings, to hooping, to how to sew on a purse, how to make a cute towel for gifts or for your home. Plus so much more! Even if you do not own a multi needle come join this class and see all the capabilities of this machine!
Free Class
Doors open. @ 9:00 a.m.
Class time 10:00 a.m. – 4:00 p.m.
–>> REGISTER HERE FOR April 24th, 2021 CLASS <<–
Luminaire/ Solaris Training Zoom Class Featuring Sarah Berube April 28th, 2021
Have you recently bought a Luminaire or Solaris and want to broaden your expertise? Join Sarah for an awesome lecture demo class! You will be learning all about your new machine and taking knowledge to the next level. In this class you will be starting all the way at the beginning going through settings, capabilities, how to do edge to edge quilting, how to quilt using the new features, and magnetic hoop. Whether you are a beginner, advanced, or maybe you don't have a machine yet and want to check out all the cool features, come join this class! You will learn so much and get to see what the machine is really about!
Free Class
You will be emailed a link for zoom when you register.
–>> REGISTER HERE FOR April 28th, 2021 CLASS <<–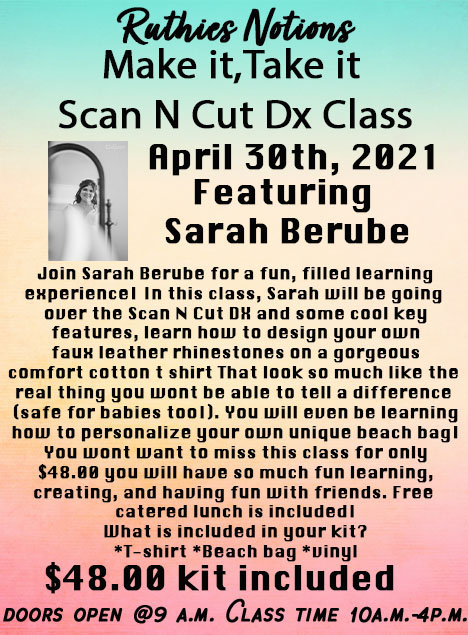 Make N Take It Scan N Cut DX Class
Join Sarah Barnhill- Berube Friday, April 30th 2021 for a fun-filled learning experience!!
In this class, Sarah will be going over the Scan N Cut Dx and some cool key features,
Learn how to design your own faux rhinestones On a Gorgeous Comfort Cotton T-Shirt! That look so much like the real thing you won't be able to tell a difference ( Safe for Babies too!). You will even be learning how to personalize your own Unique Beach Bag! You won't want to miss this Class! For Only
$48.00 you will have so much fun learning, creating, and having fun with friends! Free Catered Lunch!!
The $48.00 Kit Fee Includes:
T-Shirt
Beach Bag
Vinyl * if you want a different color vinyl than we have picked out you will need to purchase some! We have a variety of colors at Ruthies!
Supply List ( What you will Need to Bring.)
Scan N Cut DX * 225 DX Or 230DX *
Power Cord
Standard Tack Mat 12X12
Low Tack Mat 12X12
Hook & Spatula Tool ( For Weeding your projects)
Flash Drive OR USB
–>> REGISTER HERE FOR April 30th, 2021 CLASS <<–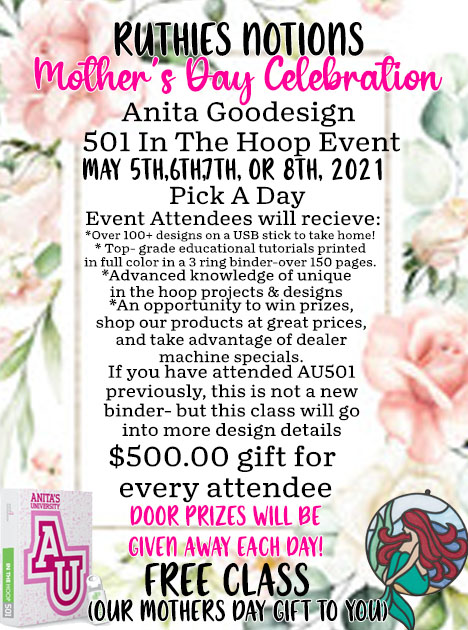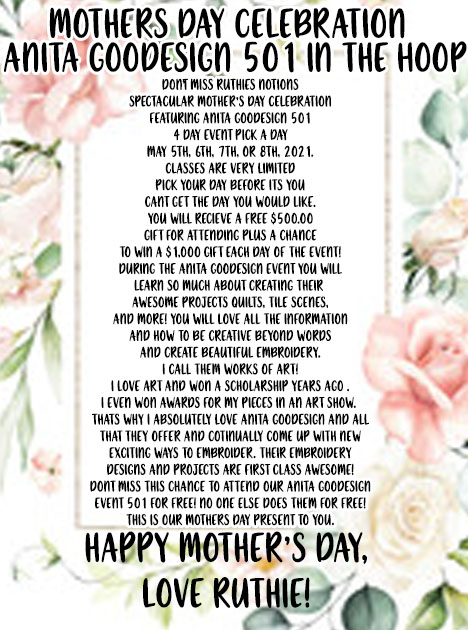 Mother's Day Celebration Anita Goodesign 501 In The Hoop May 5th, 6th, 7th, or 8th, 2021 PICK A DAY
Don't miss Ruthies Notions Spectacular Mother's Day Celebration featuring Anita Goodesign 501 4 Day Event PICK A DAY May 5th, 6th, 7th, or 8th, 2021. Classes are very limited pick your day before its you cant get the day you would like. You will receive a Free $500.00 gift for attending plus a chance to win a $1,000 gift each day of the event! During the Anita Goodesign event you will learn so much about creating their awesome projects quilts, tile scenes, and more! You will love all the information and how to be creative beyond words and create beautiful embroidery. I call them works of art! I love art and won a scholarship years ago . I even won awards for my pieces in an art show. Thats why I absolutely love Anita Goodesign and all that they offer and continually come up with new exciting ways to embroider. Their embroidery designs and projects are first class AWESOME! Don't miss this chance to attend our Anita Goodesign event 501 for FREE! No one else does them for free! This is our Mothers Day present to you.
A more detailed look! Event attendees will receive:
Over 100+ designs on a USB stick to take home!
Top-grade educational tutorials printed in full color in a 3-ring binder — over 150 pages!
Advanced knowledge of unique in the hoop projects & designs!
An opportunity to win prizes, shop our products at great prices, and take advantage of dealer machine specials.
If you've attended AU501 previously, this is not a new binder – but this class will go into more design detail.
FREE $500 gift for every attendee and door prizes will be given away each day!
Free Class
Free catered lunch
Doors open at 9:00 a.m.
Class times 10:00 a.m.-4:00 p.m.
How to Start a Successful Embroidery Business
May 10th, 2021
Have you ever thought about turning your creativity and passion for embroidery into a business? Join Tina Bartelmay at Ruthies Notions on May 10th to learn how you can start a successful embroidery business. We will cover:
How to get started
How to market yourself
Deciding what embroidery machine makes the most sense for your business;
Determining which accessories do you need to be efficient, productive and profitable
Find out what software can do for your business
Learn where to get supplies and blanks
Find out how to price your products, and
Ways to expand your market
All you need to bring are your questions, and something to take notes on.  You don't want to miss this incredible class and a delicious catered lunch at Ruthie's Notions.
–>> REGISTER HERE FOR May 10th, 2021 CLASS <<–
2 Day Hummingbird Tote Bag Make It, Take It Class
May 11th and 12th, 2021
Join Tina Bartelmay and Ruthies Notions for an exciting two-day Make and Take class to learn how to make a beautiful, one-of-a-kind tote bag.
You do not want to miss this awesome two-day make-n-take class. We will be using the Hoffman Hummingbird Digital Print and Essex Sparkle Linen to make a cute and useful tote bag – perfect for Spring and Summer!  We will learn how to create custom quilting designs for the panel using the Design Center, and then see how easy the sewing can be with advanced sewing features on your machine.  You can even add embellishments to your bag to make it truly one of a kind. You will not believe how fun and easy it will all be!
Bring to Class:  Embroidery machine with at least a 9.5 x 14 in hoop, embroidery and sewing accessories (stylus or wired mouse is required), 9.5 x 14 in hoop or larger, pins or clips, scissors, thread (recommend pink, bright green or blue and black pre-wound bobbins and a desire to have a great time.
Kits will be provided.
Class is $98.00. Awesome kit included
Free catered lunch included!
–>> REGISTER HERE FOR May 11th and 12th, 2021 CLASS <<–
This Class has been canceled!
Brand New Oesd Embroidery Essentials Featuring Tamara Evans May 28th or 29th PICK A DAY, 2021
First class EVER at Ruthies Notions in Baker, FL May 28th or 29th PICK A DAY, 2021 OESD embroidery essentials class with Tamara Evans, an expert in creating gorgeous tile scenes, lace designs including the most awesome lace Christmas village you ever saw. The most detailed designs and how to stabilize properly to get the most gorgeous result ever. If you don't stabilize properly you can blow the whole design out of wack. Come to Ruthies for this Brand new class from OESD! You will explore how to master different embroidery techniques. These topics include machine embroidered appliques, piecing in the hoop, edge -to- edge quilting in the hoop, tiling scenes, embroidery on garment, free-standing applications and so much more! You will absolutely love all the new creative possibilities this will give you! Sign up now.
*Tons of door prizes given away each day*
* $200.00 gift given to each attendee*
This class is $29.00
(please print your receipt from constant contact and bring it to the desk when you check out you will get a $29.00 credit for OESD product only!)
–>> REGISTER HERE FOR May 28th, 2021 CLASS <<–[/button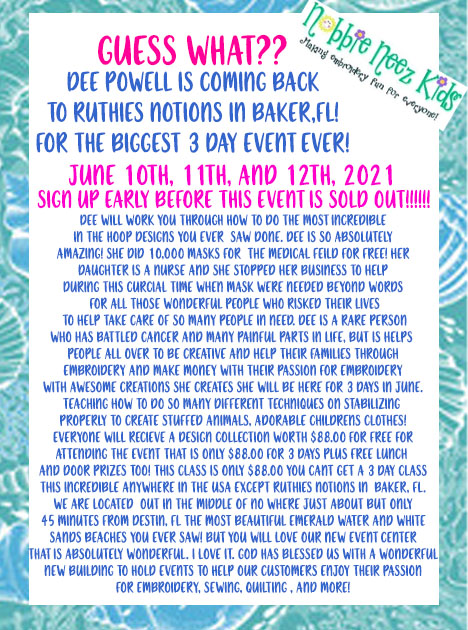 Biggest 3 Day event Featuring Dee Powell June 10th, 11th, and 12th, 2021
Dee will work you through how to do the most incredible in the hoop designs you ever saw ! Dee is so absolutely amazing! She did 10,000 masks for the medical field for FREE! Her Daughter is a nurse and she stopped her business during this crucial time for all of those who needed masks for the wonderful people who risked their lies to help take care of so many people in need. Dee is a rare person who has battled cancer and so many painful parts of her life, but she helps people all over to be creative and help their families through embroidery and make money with their passion for embroidery with awesome creations she creates she will be here for 3 days in June. Teaching how to do so many different techniques on stabilizing properly to create stuffed animals, adorable children's clothes! Everyone will receive a design collection worth $88.00 for free attending the event that is only $88.00 for three days plus a free lunch and door prizes! This class is only $88.00 you cant get a three day class this incredible anywhere else in the USA except Ruthies in Baker,FL. We are located our in the middle of nowhere just about 45 minutes from Destin, FL the most beautiful emerald water and white sands you ever saw but you will love our new event center that is absolutely wonderful. I love it. God has blessed us with a wonderful new building to hold events to help our customers enjoy their passion for embroidery, sewing, quilting, and more!
This class is $88.00 for 3 days!
Plus you are getting a $88.00 design collection for attending!
Catered lunch is included
Tons of door prizes will be given away!
–>> REGISTER HERE FOR June 10th, 11th, and 12th, 2021 CLASS <<–[/button