Ruthies Notions in Baker FL is planning some of the very best Make It and Take It classes and lecture demos with the absolute best teachers in the industry today! We only list classes a few months in advance. Sign up early as classes fill up fast!!
Please add a working email you have access to when signing up because future classes and updates will be sent there.
You are going to love all the new classes coming in 2022!!
To sign up for any of the following classes just simply click on the "Register" link under the class.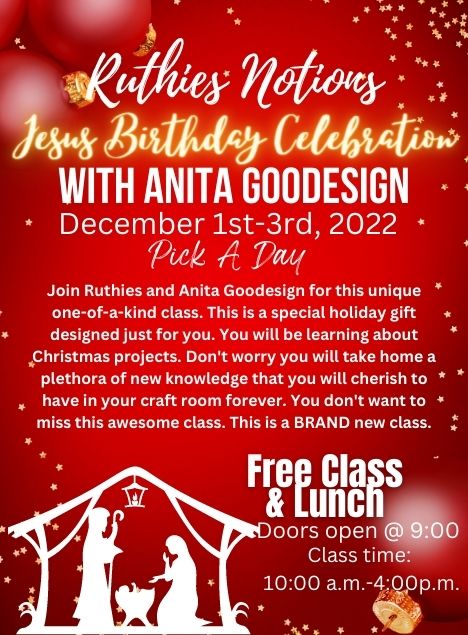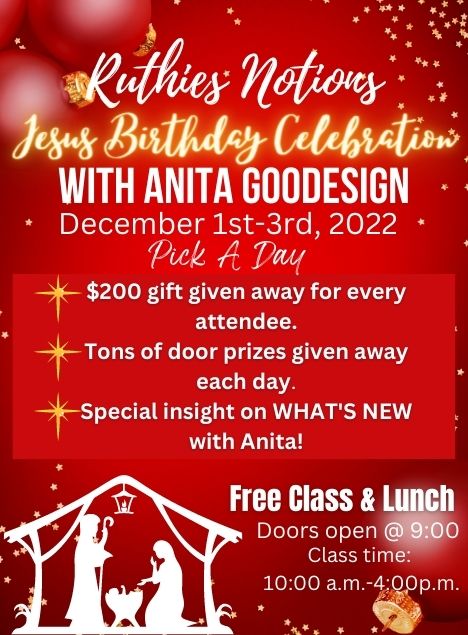 Upgrade Possibilities Make It, Take It December 9th, 2022 Featuring Joan Clemons
Learn all about the brand-new upgrade and so many brand-new possibilities. Can you stand it! Plus learn to mix old ideas with new so you can sew creative with your Luminaire or Solaris with one of the best talented educator out there. Sign up now. Class will fill up so fast! This class is totally different and amazing beyond words. This is a chance to really learn your awesome design center or IQ to the max.
$98.00 Kit Included
Door Open @ 9:00 a.m.
Class times: 10:00 a.m.-4:00 p.m.
–>> REGISTER HERE FOR December 9th,2022 CLASS <<–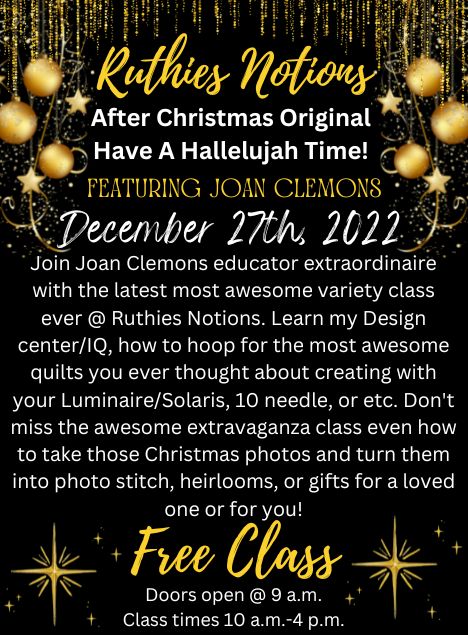 After Christmas Original Have A Hallelujah Time! Featuring Joan Clemons December 27th, 2022
Join Joan Clemons educator extraordinaire with the latest most awesome variety class ever @ Ruthies Notions. Learn my Design center/IQ, how to hoop for the most awesome quilts you ever thought about creating with your Luminaire/Solaris, 10 needle, or etc. Don't miss the awesome extravaganza class even how to take those Christmas photos and turn them into photo stitch, heirlooms, or gifts for a loved one or for you!
Free Class and Lunch!
Door Open @ 9:00 a.m.
Class times: 10:00 a.m.-4:00 p.m.
–>> REGISTER HERE FOR December 22nd,2022 CLASS <<–