Ruthies Notions in Baker FL is planning some of the very best Make It and Take It classes and lecture demos with the absolute best teachers in the industry today! We only list classes a few months in advance. Sign up early as classes fill up fast!!
Please add a working email you have access to when signing up because future classes and updates will be sent there.
You are going to love all the new classes coming in 2021!!
To sign up for any of the following classes just simply click on the "Register" link under the class.
Sharon Log Cabin Quilt Class June 18th, 2021
Supply List:
Needles
Serger thread- 4 thread maxi lock
scissors
seam ripper
rotary blade
cutting mat
ruler
portable iron
power cord
presser foot
Dream Big Make It,Take It Class Featuring 

Andy

 o'Connor June 19th, 2021
Learn how to use IQ designer or my design center to create this gorgeous work of art with your Luminaire, Solaris, Stellaire XEI or XJI, or dream machine and destiny. Bring your machine and sewing tools to class. This includes all fabric and thread for only $98.00. This class is very limited sign up now! Can you stand it?
Class is $98.00 Kit and lunch included
–>> REGISTER HERE FOR June 19th, 2021 CLASS <<–
June 25th 2021 Multi Needle Make-It, Take-It Class Featuring Sarah Berube
Join Sarah Berube on June 25th for an In-Store Make-It, Take-It Multi-needle Class! Whether you have a Persona/ Alliance, 6 Needle Or a 10 Needle you won't want to miss all the fun this class is going to have!  In this Class you will be Personalizing a gorgeous monogrammable Purse, you will also be learning how to take a structured/non-structured hat, hooping it with the gen 2 and T-Bar, and lining it up perfectly with the awesome built-in camera! Whether you don't have a machine yet, you're thinking about one, or you want to learn more about your baby, Come sit in the class and see what this machine is all about!
Join Sarah as she dives into the machine exploring awesome features of the machine! You will even be able to take your cute, Finished Projects home!!
You will be learning hard to hoop items as well!
This Class is $44 
10 am-4pm
*Limit of 15
–>> REGISTER HERE FOR June 25th,  2021 CLASS <<–
First original class on how to begin to create and finish Anita Goodesign Blocks and create a beautiful wall hanging Featuring Andy O'Connor July 17th, 2021
Andi has created some of the most beautiful works of art at Ruthies Notions in Baker, Fl. Just stop by to see them. You will absolutely love being able to create your own works of art after this class. This class is lecture demo. Sign up now this class will fill up fast. Plus an all access worth $1,000 will be given away on this day to one blessed person!
Class is  Free and lunch included
–>> REGISTER HERE FOR July 17th, 2021 CLASS <<–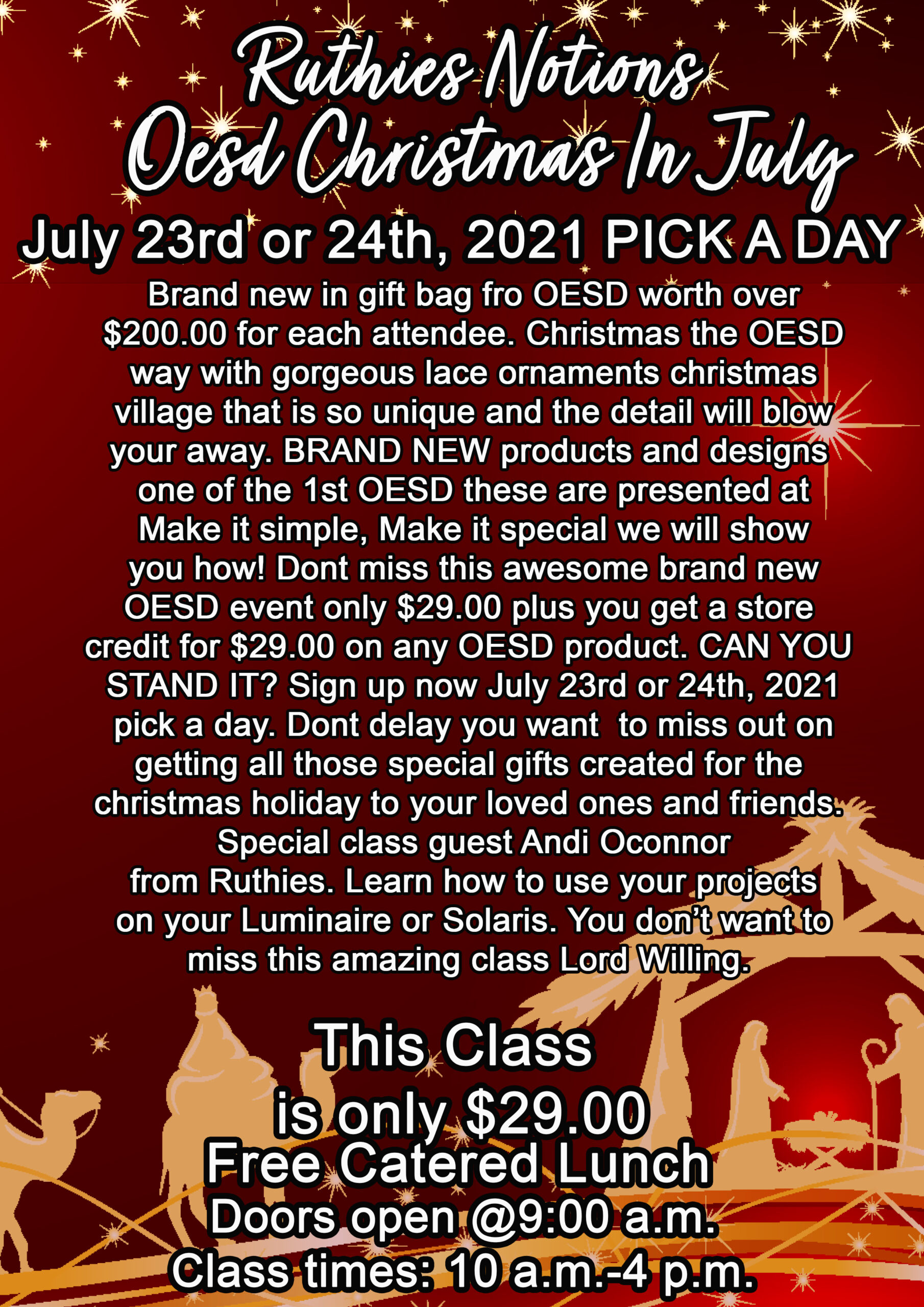 Christmas in July Oesd Event July 23rd or 24th PICK A DAY Featuring Tamara Evans
Brand new in gift bag fro OESD worth over $200.00 for each attendee. Christmas the OESD way with gorgeous lace ornaments christmas village that is so unique and the detail will blow your away. BRAND NEW products and designs one of the 1st OESD these are presented at Make it simple, Make it special we will show you how! Dont miss this awesome brand new OESD event only $29.00 plus you get a store credit for $29.00 on any OESD product.BRING YOUR RECEIPT FOR PROOF OF PURCHASE! CAN YOU STAND IT? Sign up now July 23rd or 24th, 2021 pick a day. Dont delay you want to miss out on getting all those special gifts created for the christmas holiday to your loved ones and friends. Special class guest Andi Oconnor from Ruthies. Learn how to use your projects on your Luminaire or Solaris. You don't want to miss this amazing class Lord Willing.
This Class is $29.00 free lunch included
doors open at 9:00 a.m.
Class time 10:00 a.m.-4:00p.m.
–>> REGISTER HERE FOR July 23rd, 2021 CLASS <<–
–>> REGISTER HERE FOR July 24th, 2021 CLASS <<–
Back to School Anita Goodesign August 12th, 13th, or 14th, 2021
During the 301 class we are going to explore many different embroidery technqiues- such as heirloom stitching, free standing lace, and coloring your embroidery project well take a closer look at unique applique, reverse applique, and so many more thinking outside the hoop, well visit dimensional designs through button up embroidery and our reverse trapunto method this is only the beginning of the education you'll recieve and we cant even describe how much fun you will have!
Plus you are getting a $88.00 design collection for attending!
Catered lunch is included
Tons of door prizes will be given away and one customer will receive a door prize worth $1,000 given away each day!
Each attendee will receive a $500.00 gift
–>> REGISTER HERE FOR August 12th, 2021 CLASS <<–
–>> REGISTER HERE FOR August 13th, 2021 CLASS <<–
–>> REGISTER HERE FOR August 14th, 2021 CLASS <<–