Ruthies Notions in Baker FL is planning some of the very best Make It and Take It classes and lecture demos with the absolute best teachers in the industry today! We only list classes a few months in advance. Sign up early as classes fill up fast!!
Please add a working email you have access to when signing up because future classes and updates will be sent there.
You are going to love all the new classes coming in 2023!!
To sign up for any of the following classes just simply click on the "Register" link under the class.
Hands-On Tulip Bag Class
September 28th and 29th 2023
Join Ruthie Notions on  September 28th and 29th for an exciting hands-on Purse class with Joan Clemons using exciting techniques built into your machine. You will learn a combination of embroidery, Sewing, and IQ Designer in this class. While learning these unique techniques, you will create a beautiful Tulip Bag on Your Solaris or Altair.
🚨 Seats are limited, Sign up for an early bird special of $188.
This Class usually is over $248! Sign up now!
Fabric, Kit, and Free Catered Lunch are included!
Supply List:
• Babylock Solaris or Altair
• Power Cord
• Foot Controller
• Embroidery Foot
• Accessory box
• Hoops: Bring 9×14 and larger hoops, Bring magnetic hoops if you have them
Sign Up Here:
September 28th & 29th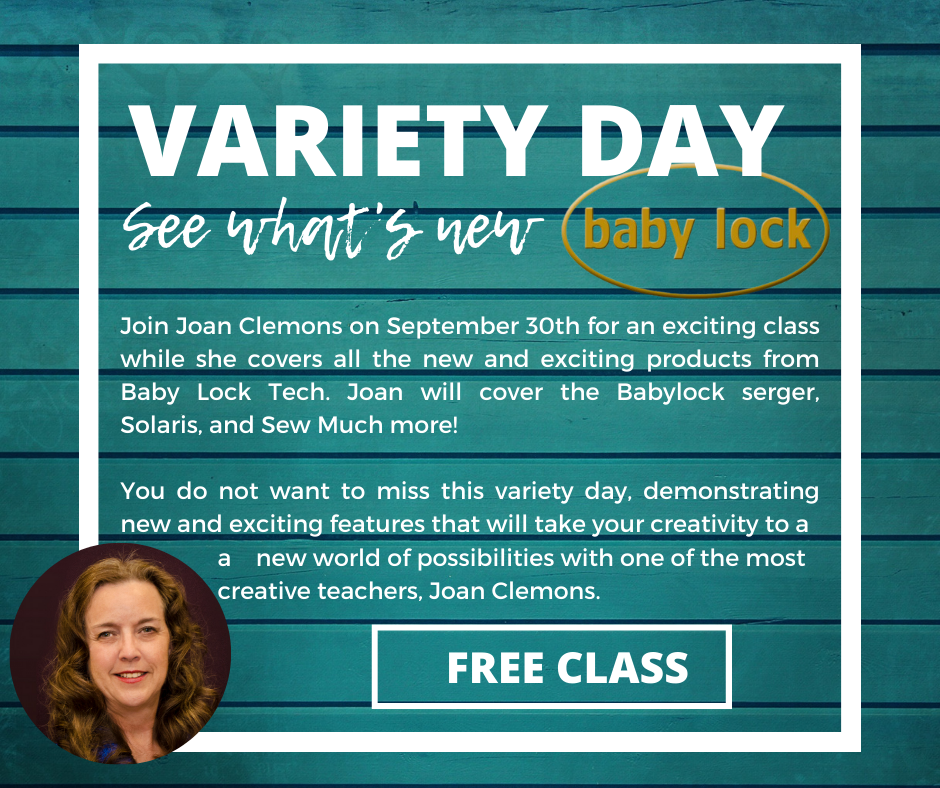 Variety Day
September 30th 2023
Join Joan Clemons on September 30th for an exciting class while she covers all the new and exciting products from Baby Lock Tech. Joan will cover the Babylock serger, Solaris, and Sew Much more! You do not want to miss this variety day, demonstrating new and exciting features that will take your creativity to a new world of possibilities with one of the most creative teachers, Joan Clemons.
Free Class, Free Lunch!
Sign Up Here:
September 30th
2 Day Hands on Poinsettia Panel
Featuring Tony Collins
October 6th & 7th, 2023
Doors open at 9:00am     Class Starts at 10:00am
Take the Poinsettia Panel from Hoffman Fabrics to the Next Level. In this class you will learn Techniques, Tips, and Tricks that will make working with your machine a breeze. You will learn to piece borders in the sewing side, Step by Step on putting the quilt together and quilting it using built in features on the machine. Throughout these two days you will learn new & exciting capabilities to be creative on your Luminaire/ Solaris.
Normally $248 Now only $148!
Sign Up Here:
October 6th & 7th
Photostitch Lecture/Demo
Featuring Pam Yarger
October 14th, 2023
Doors open at 9:00am     Class Starts at 10:00am
Join Pam Yarger for a lecture/demo on Photostitch.
We will take your PE-11 or Palette 11 software to new levels as we master photostitch.  We will cover what images are suitable, stabilizers, threads and adjust photos to create an artistic rendering of your precious photograph in thread.
Sign Up Here:
October 14th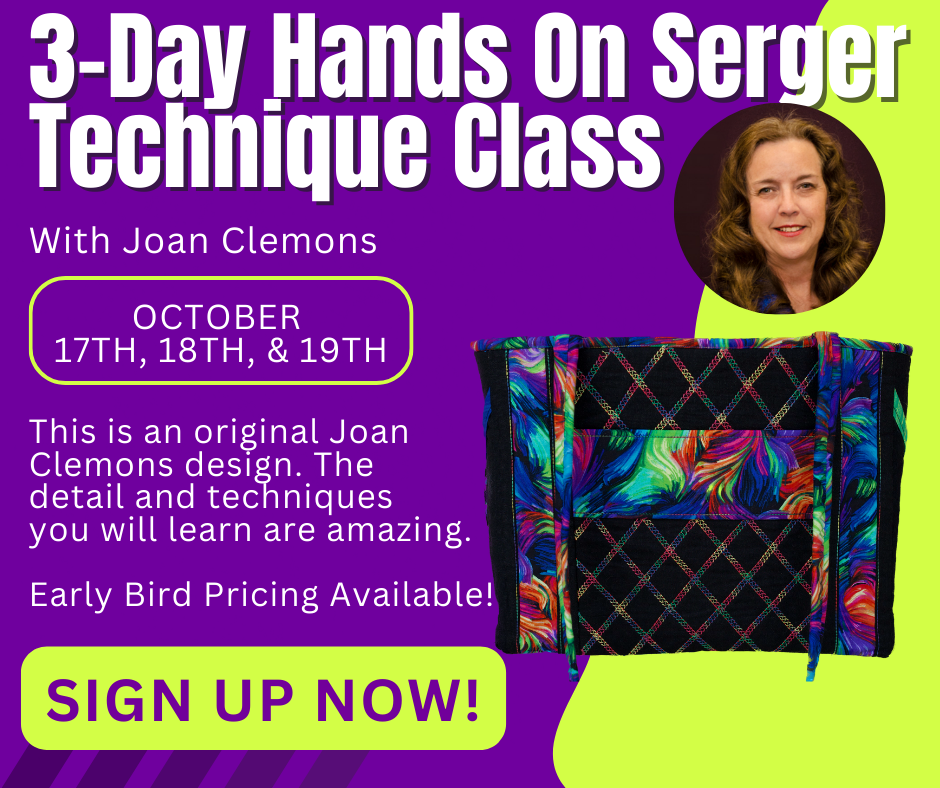 3-Day Hands-On Serger Technique Class
Featuring Joan Clemons
October 17th, 18th, & 19th, 2023
Doors open at 9:00am     Class Starts at 10:00am
Join Joan Clemons for a 3-day hands on class! Class fee includes kit and fabric. This is an original Joan Clemons design. The detail and techniques that you will learn are amazing!
Sign up now – Early Bird Pricing – $248.00
Class is limited!
Sign Up Here:
October 17th, 18th, & 19th
OESD Embroidery Essentials
Featuring Heather Banks
October 20th or 21st, 2023
Doors open at 9:00am     Class Starts at 10:00am
Join Heather Banks from OESD at Ruthies Notions October 20th or 21st. Heather will take you through th steps of how to get the perfect stitch out. She will be showing you techniques such as, Applique, Freestanding Lace, Tiling Scenes, In the Hoop projects and Sew much more! To top it all off, she will have a truck show for inspiration. Showcasing beautiful works of art!
👉 Class is $29.00, bring your receipt to class and you will receive $29.00 Store Credit on OESD product! Can you stand it!?
🎉 Plus each Day we will be giving away LOTS of doorprizes, and Each Attendee will get a present worth over $200!! 🎉
Sign up now!
Sign Up Here:
October 20th
October 21st