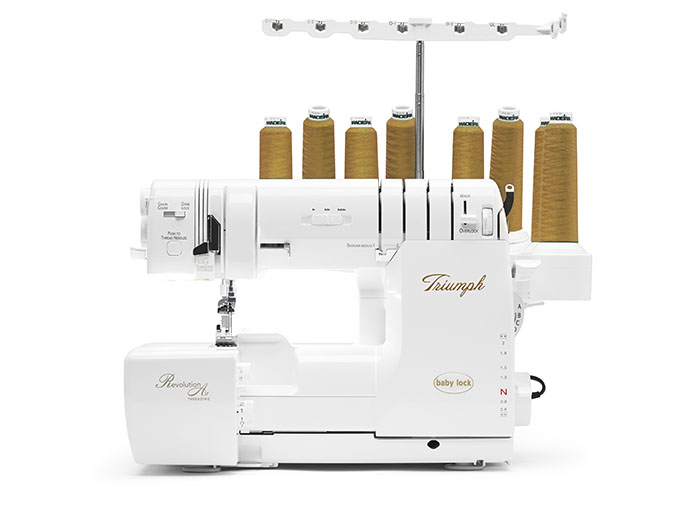 Are you new to sewing or still a beginner? It's time to start building your sewing toolkit now! As your skills become more advanced, your sewing kit should too.
What is a serger? If you're asking this question, this article is a fantastic place to start. We'll teach you all about sergers and why they will help you with your sewing!

What is a Serger?
If you're looking to hone in your sewing skills to sew garments, a serger allows you to make professional stitches and seams. It's a professional grade sewing machine that uses overlock stitching to secure fabric together. An overlock stitch is the type of stitch used to finish shirts and other popular garments to ensure the fabric doesn't come undone.
Different Serger Types
Sergers use thread casing to enclose the seam on the fabric edge while simultaneously trimming the seam. Sergers are available with many thread use, width, and density options. The options will vary depending on the serger you purchase, with the most expensive having the most options.
2-4 Thread Sergers
A 2-4 thread serger uses two-thread overlock stitching on the edge. This stitch is also referred to as a safety stitch.  This machine uses two threads and can create the stitches separately.
3-4 Thread Sergers
This serger uses three or four different threads. Using four threads provides a more stable seam with less flexibility and more width. Three threads have some flexibility and stretch. When using the four thread overlock stitching, it doesn't provide a true safety stitch. The strength of the seam is strong, but not as strong as the safety stitching in the 2-4 thread.
5-Thread Sergers
5-thread sergers are the most expensive of the bunch with all of the capabilities of other machines plus more. It uses two threads, three threads, or four threads separately for seams depending on your preference. This serger makes it possible to stay on one machine for the entire process of making a garment instead of switching between machines for stitching.
Variety of Capabilities
Each serger does different things but all sergers have the following functions.
Seam Finishing
Finishing seams are one of the best ways to use your serger. Your edges are clean and it eliminates the need for hand cutting.
Gathering
Do you love ruffles? Using the serger's ability to gather adds ruffles to any piece of fabric. Want to add ruffle sleeves on your new shirt? Done. Want to make homemade ruffle curtains? Piece of cake.
Knit Fabrics
If you are using a lot of knit fabric as your fabric of choice, a serger's stitches make the seam flexible enough to not pull the fabric in an unnatural way.
Cover Stitching
Another great function of a serger is cover stitching. Coverstitching folds the raw edge of your fabric underneath into the inside of the garment. By doing this, it allows the machine to make a professional, ready-to-wear stitch.
Finish Your Edges
Sergers make it possible to finish your fabric edging so your fabric doesn't unravel. While they aren't necessary for all beginners, having one will help you make clean edges. If you're planning on growing your sewing toolkit, learning more about what is a serger and the types available is a must. Check out our Baby Lock Sergers today!