---
---
Ruthies special message for you and yours today from the Lord. Please read with an open door to your heart so that Jesus can bless you so richly today and always.
---
»»  FEATURED CLASS!! ««
Click on each image to be taken to the classes page where you can sign up for these amazing classes and see the full details!!!
---
>>ITS COMING – Baby Lock's Next Big Thing<<
You have never seen a machine like this before and it is coming to Ruthies Notions – your local Baby Lock retailer. When you're among the first to place a deposit and purchase it, you will be rewarded with a special bonus offer worth over $4,000*!
Contact Ruthies Notions today to learn more. You can also visit here for more details.
*offer valid through August 5th, 2018.
Don't Miss Out!!!
---
»» MACHINE SALES OF THE WEEK!! ««
---
Baby Lock Destiny II Machine Sale
Take thousands off MSRP. This week only!!
Baby Lock Valiant 10-Needle Machines
60 Month Financing to qualified buyers. This Week Only!
Baby Lock Evolution Sergers
We just received 2 Evolution Sergers! Hurry these are very rare!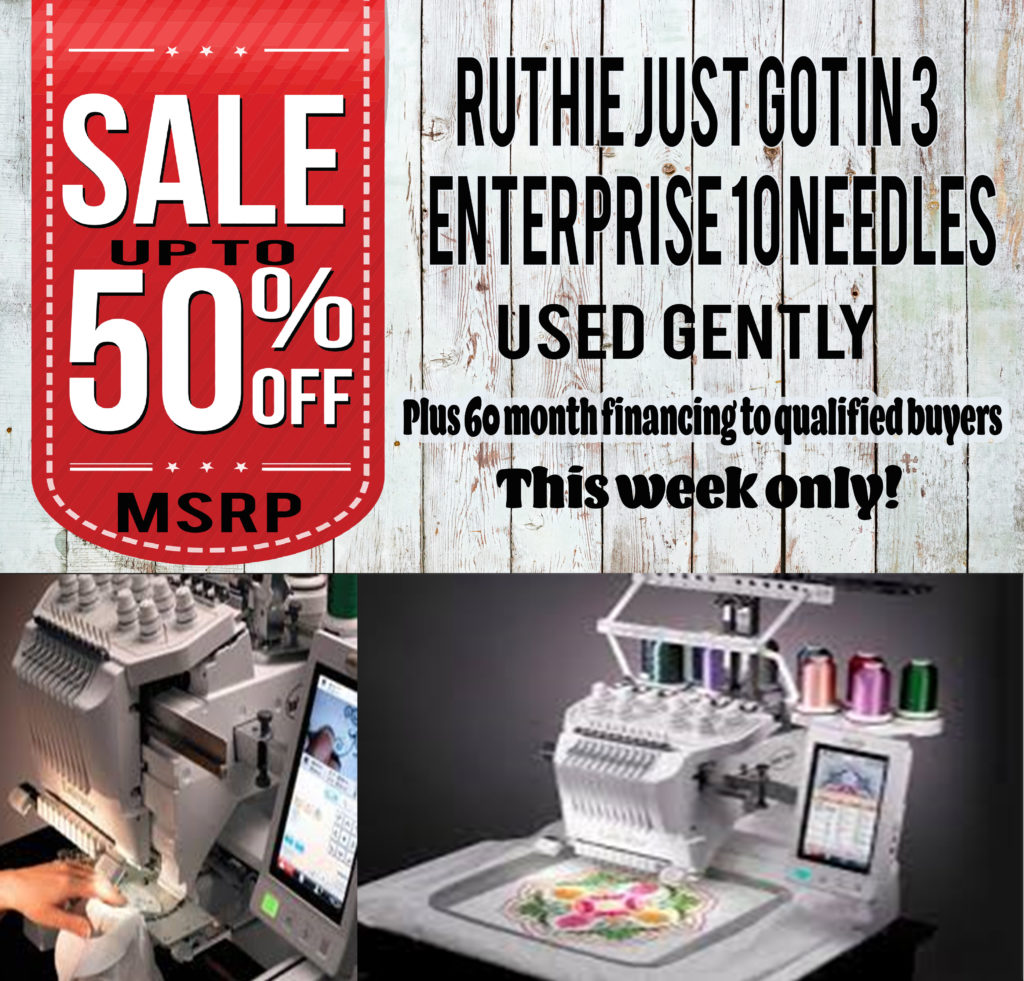 Enterprise 10-Needle Machines
These are gently used machines. Up to 50% off
---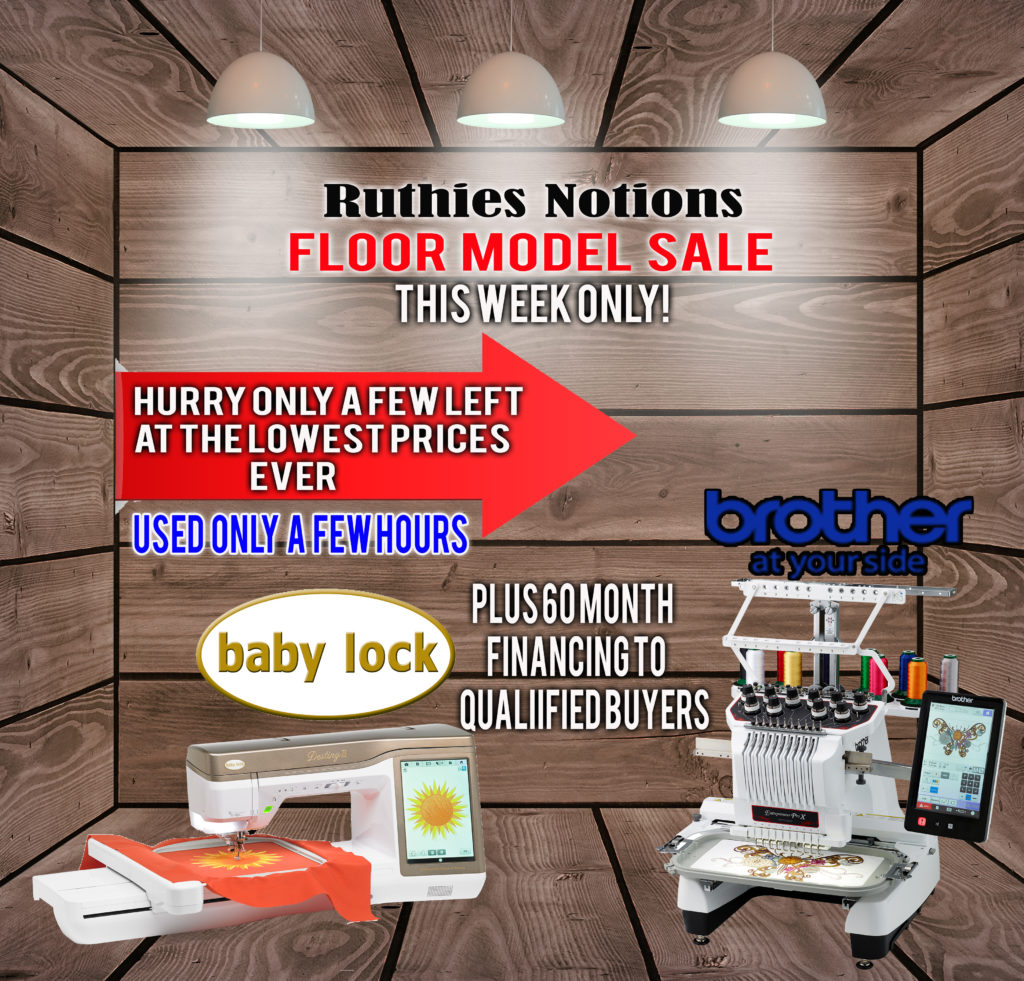 Ruthies Huge Floor Model Sale
This Week Only!!!
*60 month financing to qualified buyers*
Hurry only a few left at the lowest prices EVER. Wait till you see the bonuses you get with the floor models too.
We have only 2 Brother PR 1050X  Entrepreneur Pro X 10 needles, 2 Brother dream machine 2, 1 Babylock Destinys,1 babylock valiant 10 needle, and 2 Babylock triumph serger
---
Traded in Machines VERY RARE OPPORTUNITY!
They all have been used gently used only a few hours Select traded in machines are even up tp 50% off MSRP. They wont last long hurry in to Ruthies today before they are gone. 60 month financing available to qualified buyers!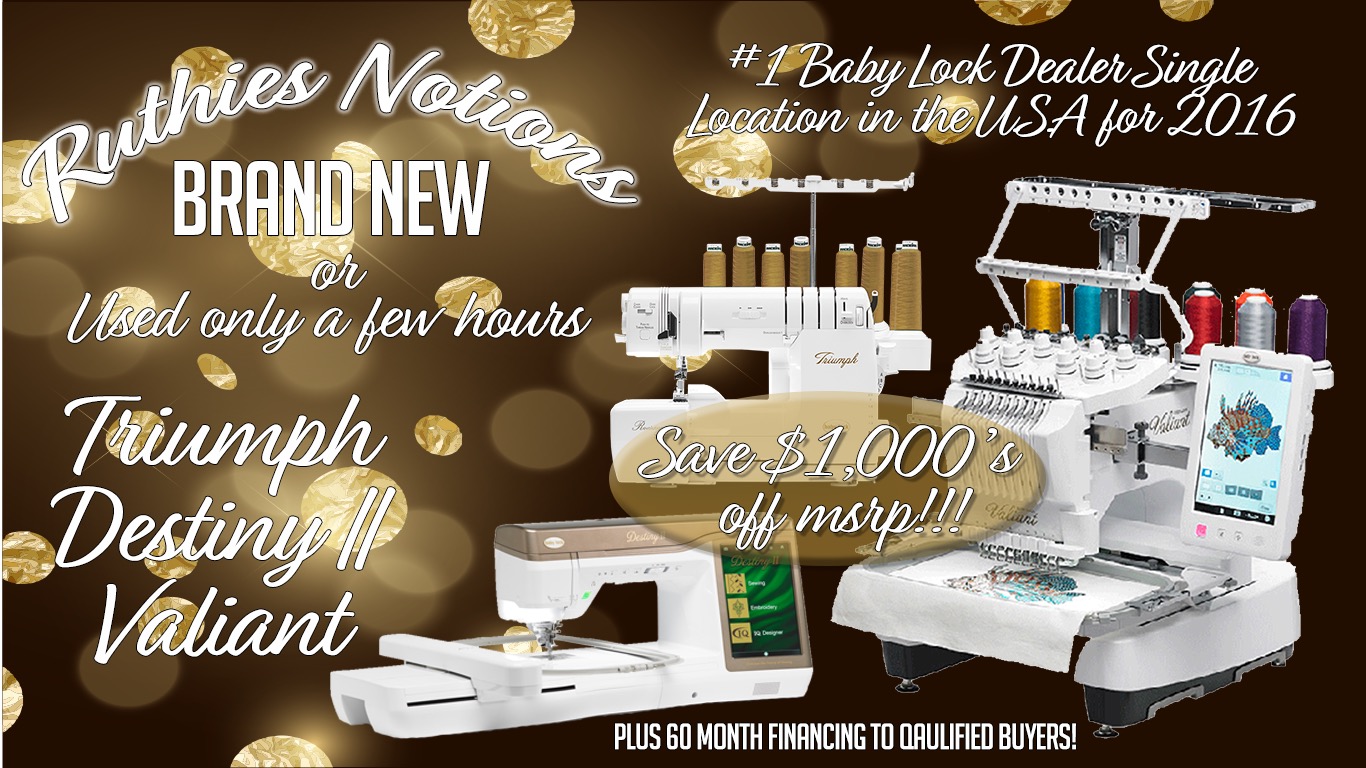 ---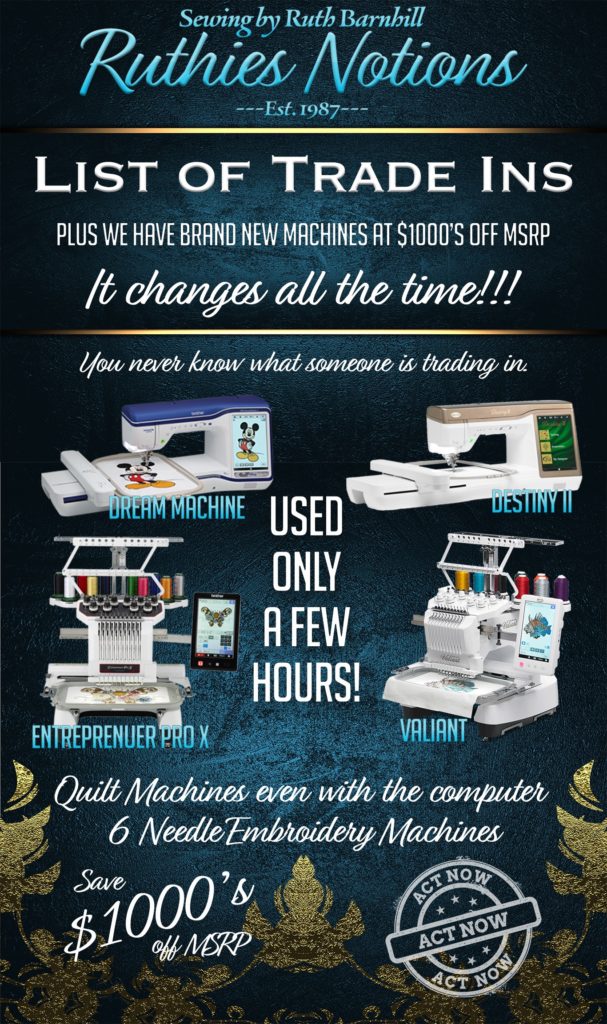 ---
Ruthie just got a Big Shipment in of brand new Destiny II's, Valiant's, and the brand new Triumph Serger from Baby Lock!!!
Once a year at Baby Lock Tech, we get the opportunity to receive excellent pricing on machines. So now we are passing it on to you!!!
Plus we are offering 60 month, no interest equal pay, to qualified buyers!
~ ~SPECIALS~ ~
Buy a Destiny II at MSRP and get a brand new Baby Lock Triumph for FREE!!
Save over $7,000!!! WOW!!!
Buy a Triumph Deluxe Package and save over $1,700.00!!
Buy a 10-Needle Valiant Deluxe Package and save over $7,000!!
Can You Stand It!!!
Buy a Destiny II Deluxe Package and save over $2,700.00!!!
Hurry in! We only have a few machines at these HUGE SAVINGS!! Don't forget, we are offering 60 month financing, no interest equal pay, to qualified buyers!!
---
Ruthie has the Brother Scan N Cut CM650W on special THIS WEEK ONLY!! Don't miss out on this great deal!!!
---
---
---
**Learn how to do a big Embroidery Business from home or add to your existing business you have now!!**
Even if you have a vinyl business, you can add so much to it!
We will help you with classes and training with the best teachers in the industry today! We have a multitude of customers who have very successful businesses. Wait until you start coming to Ruthies and be blessed beyond measure. Praise the Lord!!
---
David Barnhill, Ruthie's son, is a trained Baby Lock Technician. Servicing Baby Lock machines on a regular basis will help keep them running right and at their best potential possible.
If you are having problems with your Brother or Baby Lock machines contact us to help get them back up and running correctly!
---

Ruthie and her son David Barnhill were so grateful to the Lord to receive an award for
#1 Baby Lock Dealer for the USA for a single location for 2016 at Baby Lock Tech this year.
Ruthie's Notions is the #1 Baby Lock Dealer in the USA for 2016. We offer the complete line of the most wonderful Baby Lock machines at huge savings. Plus, we have the most free classes and training you can get anywhere in the USA.
Why not come to Ruthie's Notions in Baker FL and experience it for yourself! We have been in business for over 30 years and top in sales for years! We have so many customers that come to Ruthie's from all over the USA!
---

Ruthies Notions in Baker FL has awesome classes planned for 2018! Visit our classes page often to see what all we have going on for you and yours! It's never a dull moment around Ruthies with all the new hands on classes as well as Lecture Demo classes! We only list classes a few months in advance so sign up early! So many classes are out of this world wonderful! Just ask all the people who come!!
---
Ruthies Notions is now a FULL LINE BROTHER DEALER!!!
We have the very best prices you ever saw. Plus – no-one else gives you all the goodies we do plus the excellent training and classes that we offer. You can go home and start sewing or embroidering right away! Check out our available Brother machines.
We offer awesome financing (to qualified buyers)!!
Hurry in today!! Don't miss all our special prices going on NOW!!! Click here for our Brother Machine Sales and Specials.
---
We Are Here To Help
At Ruthie's Notions we would love to help you customize the awesome Baby Lock or Brother package of your dreams. We specialize in Brother and Baby Lock Embroidery, Sewing, Quilting Machine and Sergers. Each person has different needs. Some people have worked hard all their life. They are ready to enjoy sewing and embroidery to its fullest potential. We are a Brother and High Performance Baby Lock Platinum Dealer, and #1 Baby Lock Retailer, Single Location, for over 5 years in a row!
Our Baby Lock and Brother Embroidery and Sewing Classes
We have some of the most creative and educational classes you have ever attended anywhere. You will absolutely love all the classes we have planned for you and yours this year! Each one is quite different and exciting. Our customers love them. We are here to help you learn how to use your machines and make beautiful things with them. Located in Baker FL., we are not that far from Crestview, Fort Walton Beach, Destin, or even Panama City! We also have many people come from Niceville, Pensacola, Andalusia, AL, and Montgomery, AL.
If you are planning to start a business or already have one, we offer some of the best classes out there to start a business. We will provide a ton of ideas to get you started right. You would not believe all our customers who have started successful businesses of their own!
To view all of our upcoming Brother and Baby Lock classes CLICK HERE.