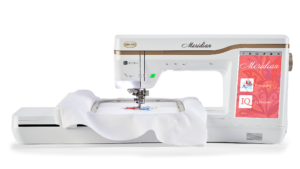 If you're an avid sewer, embroiderer, or quilter, you want a machine that you can trust to help you do the job right. Baby Lock has been in production since the 1960s and focuses on innovation, quality, and trust.
They offer a variety of machines to tackle whatever project you have in mind. In this guide, we discuss the new machines released from Baby Lock and what they offer.
The Baby Lock Array
The Baby Lock Array is a multi-needle embroidery machine with several capabilities to make your next project a breeze. This machine includes 127 built-in designs with the option to create your own.
Notable Features
Crosshair positioning laser
Intuitive color management
Speed of 1,000 stitches per minute
IQ Intuition monitoring app
Cost
The Array retail bundle costs around $2500 when purchased from Baby Lock. It is an investment, but significantly lower than the Baby Lock Meridian cost. The Meridian embroidery machine debuted in 2019 and retails at over double the price.
The Baby Lock Ballad
The Baby Lock Ballad is a new machine for sewing and challenging quilting projects. One of the best qualities of the Ballad is its ability to sew through thicker fabrics that are often difficult to work with.
Notable Features
771 built-in stitches
Multi-function foot control
NeverMiss auto needle threading
Cost
The Ballad bundle is $1200 with Baby Lock. This is a wonderful investment if you're an avid quilter looking for a machine that can withstand the toughest materials.
The Baby Lock Endurance II
The Baby Lock Endurance 2 is a six needle embroidery machine that is ideal for multiple projects or running a small embroidery business. This is an upgrade from the original Endurance model that prioritizes efficiency and convenience.
Notable Features
Auto adjustments
Flash drive compatible
On-screen editing
Needle beam
Cost
This machine retails for under $7000. If you are running a business or doing a lot of projects, this investment will make your embroidery work more streamlined.
The Baby Lock Flare Embroidery Machine

The Baby Lock Flare is a budget embroidery machine. User-friendly features and a lower price point make this a perfect choice for those starting out in embroidery.
Notable Features
293 Built-in embroidery designs
Wi-fi capabilities
Advanced needle threading
14 built-in fonts
Cost
The Flare retails below $2000. This price is more affordable for those new to embroidery.
Baby Lock Vesta Sewing and Embroidery Machine

The Baby Lock Vesta is both a sewing and embroidery machine. This model has several features that make projects more simple while offering easy access to new or built-in designs.
Notable Features
301 built-in stitches and 293 built-in embroidery designs
Wi-fi capabilities for transferring designs
Built-in embroidery fonts
Cost
This is an excellent combination machine that retails for under $4000. If you're seeking both a sewing and embroidery machine, this is an excellent option for you to have both on a budget.
Discover the Best New Machines from Baby Lock
Whether you do sewing, quilting, and embroidery as a hobby or business, Baby Lock has a wide selection of machines to choose from. New machines from the brand offer everything you could need, from built-in designs, advanced IQ technology, and other unique features.
Ready to have a Baby Lock machine of your own? Shop our current selection and contact us today.