---
Ruthies Notions Embroidery Fun 2 Day Event
Join Zandra Shaw and Deborah Jones from Club Ed for the most exciting 2 day event you ever attended!!
Don't miss an opportunity of a life time at Ruthies Notions in Baker FL. This event is our gift to you and you will get a wonderful catered lunch each day!
Zandra and Deborah both will teach you so many ways to use your Baby Lock single needle and multi-needle machines to the very max! Wait until you see all they are going to teach you!
Deborah Jones is a lifelong 2nd generation embroiderer who wasted no time getting involved with home embroidery machines when they became available in the 1990s. She even took one on her honeymoon! So it's no surprise that she is passionate about sharing her knowledge about producing high-quality embroidery. With three books and five Craftsy classes, this internationally recognized expert makes it fun to learn about how to produce your best embroidery ever. In her unique class, Deborah guides you through puzzling challenges such as small lettering, plush materials, hard-to-hoop items and more. This class will leave embroiderers of many skill levels feeling confident. Beginners to intermediate embroiderers will all learn valuable information in Deborah's class.
---
We are celebrating our Christmas in July at the end of the month NOW with 60% – 70% off!! These are the LOWEST prices of the year with the biggest discounts EVER on all our Baby Lock Machines including the Valiant 10-Needle, Destiny II, and the Ovation Serger!
We also have 2 Endurance II's at the most incredible price EVER! (You can't even buy a used one at this price!)
Sale going on NOW! HURRY IN!!!
---
Ruthies Notions in Baker FL has awesome classes planned all the way thru the end of the year into the New Year! Visit Our Classes page often to see what all we have going on for you and yours! It's never a dull moment around Ruthies with all the new hands on classes! So many classes are out of this world wonderful! Just ask all the people who come!!
---
We are having a major blow out sale on OVATIONS! Can stand it? Supplies are very limited! I would not miss out on this great opportunity!
---
Baby Lock Machine Specials
Ruthie has Brand new Baby Lock Valiants, in the box at the best prices ever! 60 month financing to qualified buyers.
---
 We are having a major blow out sale on Baby Lock OVATIONS! Can stand it? Supplies are very limited! I would not miss out on this great opportunity!
---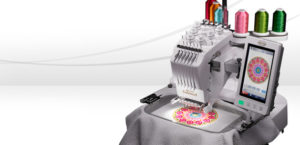 Ruthie has 3 BRAND NEW in the box Baby Lock Endurance ll at the absolute lowest prices ever! Cash, credit card, or 12 month financing only.
---
Ruthie has the most traded in ever Baby Lock ENTERPRISE 10 needle at over 50% off msrp! Don't wait they are flying out the door really fast!! 60 month financing to qualified buyers!
---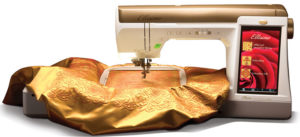 Ruthie has two like brand new Baby Lock Ellisimos ( sewing and embroidery machine) at way over 50% off msrp! Plus 60 month financing to qualified buyers.
---
---
Featured Classes
Everything Embroidery Retreat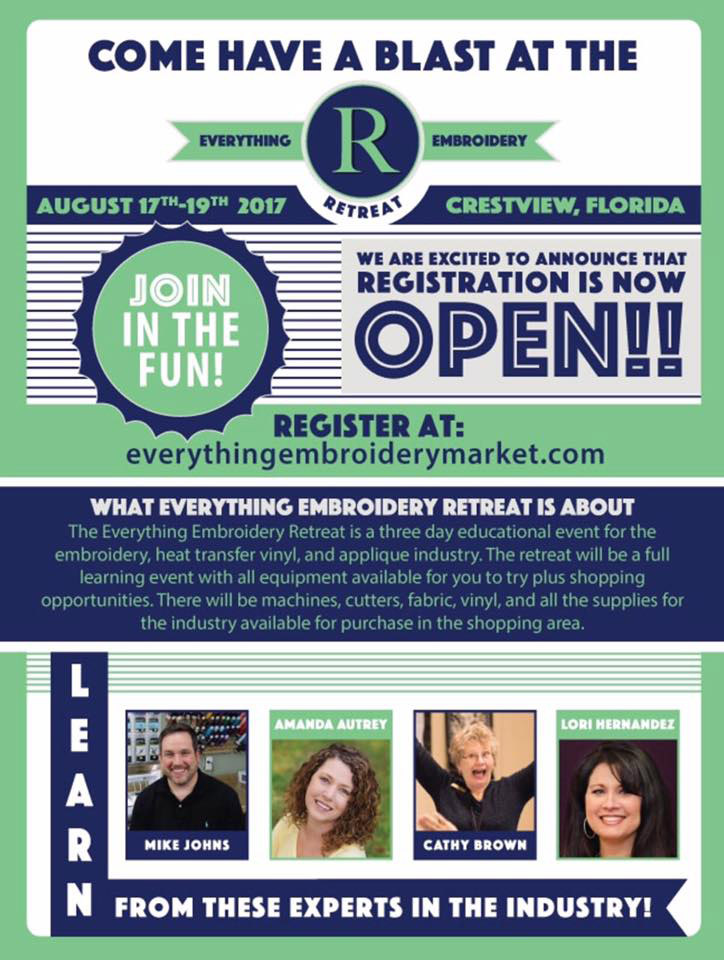 Go to everythingembroiderymarket.com to register only $129.00 for 3 days and includes a catered lunch each day. P.S. Dont miss the early bird registration that is only $99.00 until June 30th.
Ruthies notions is joining  with Everything Embroidery Retreat in Crestiview, Florida at the community center for the most exciting 3 day event ever! Plus we are giving away a Babylock Alliance.
We also have Zandra Shaw, from South Africa who is doing alot of brand new designs for the Cameo Silhoutte along with teaching you exciting ways to use your embroidery machines to embroider  like you never saw it done before!
Lori Hernandez, Mike Johns,Cathy Brown, Joan Clemmons, and Amanda Autrey will teach awesome ways to do the Cameo Silhoutte too! Plus how to use the software, do appliques,and embroidery. You will be amazed at all you will learn at this HUGE 3 DAY EVENT.
What you can look forward to at the Everything embroidery retreat 
Here are just a few of the amazing classes that are included in this event. Come to this event no matter where you are from beginner, to seasonal, to professional. Every sewist will be inspired to greatness beyond words. The large selections of inspiring tools and supplies will take you to new levels you haven't ever imagined.
Zandra: Product line
Thinking outside the hoop is just the beginning. Trust Zandra to completely inspire you with innovative 3-D designs that make embroidery come alive. Beautiful embroidery starts with the artist and Zandra, the artist, has the vision to make her design sparkle. Release your inner artist after Zandra leads the way to amazing results. Be inspired by over 1,000 silhouette designs that Zandra has designed and ask the artist how to combine and use this bounty of inspiration.
Mike Johns: stabilizers& Durkee hoops
Stabilize for professional results- The key to any successful project is using the products the professionals use. Once you try and source " the good stuff" you will not only save money, but also valuable time. Don't compromise!This seminar will allow you to imagine an embroidery world without mis-alignment, without hoop burn and without error. Yes my embroidery friends, such a world exists and we will take you there!
Cathy: Quilting & silhouette
Cutting for quilts- embroidery applique on a quilt or quilted project? How do you handle the bulk? How do you stabilize it? How do you even hoop it? Cathy will reveal the necessary tips and techniques to make this skill an important part of your bag of tricks. Top it off with pre-cut silhouette applique shapes to speed things along and add new, profitable segment to your business.
Mike- Durkee hoops
Simple and effective hooping join Mike Johns of durkee hoops for the scoop on hooping systems to keep your embroidery preparation fast and more productive. If you have ever had hooping challenges this information will change your embroidery life forever. Add in the perfect product for pre cut silhouette appliqué and you will be producing perfect results at top speed.
Lori: serger
The next level- we all want great products to give or sell. What makes anything GREAT? You have to take it to the next level! Love will show you how a simple blank, or clothing, or decor item can be sold for ten times the original cost. Hard to believe? It just takes a little know how and the tools that make it happen.
Cathy: Business Silhouette
Little things mean ALOT! How does your business stand apart from the competition? What makes YOU special? Small and simple touches will keep your customers coming back to you again and again. Send the message that you are a professional and into the world. Make everything you do, every machine – even a silhouette cutting machine- do double duty marketing for your business.
Dee Powell:
Owner of Nobbie Neez Kids, Dee believes in making embroidery fun for everyone!
Dee began embroidering when home machines could only manage a 4″ x 4″ field. She has grown with the home-embroidery industry, making digitizing and embroidery her passion as well as her career.
With over 20 years experience as a top-notch (not to mention prolific!) digitizer and embroiderer, Dee brings new ideas to the embroidery world! Dee has digitized and sold thousands of designs while inspiring others to develop their own skills. She has motivated others to discover their personal creativity in using embroidering to embellish all aspects of their lives – from the traditional to the unexpected!
Join Dee as she teaches and demonstrates taking embroidery to new heights!
Embroider on boots (YES YOU CAN!), Umbrellas, Shoes, Overalls and more ! Dee will encourage (and abet!) you in thinking 'outside the box' while using your embroidery machine!
Dee's designs include appliqués, in the hoop, red work, quilting, traditional embroidery – and more! Dee is thrilled to be sharing her experience and knowledge at The Everything Embroidery Retreat in Crestview, Florida in August 2017!
---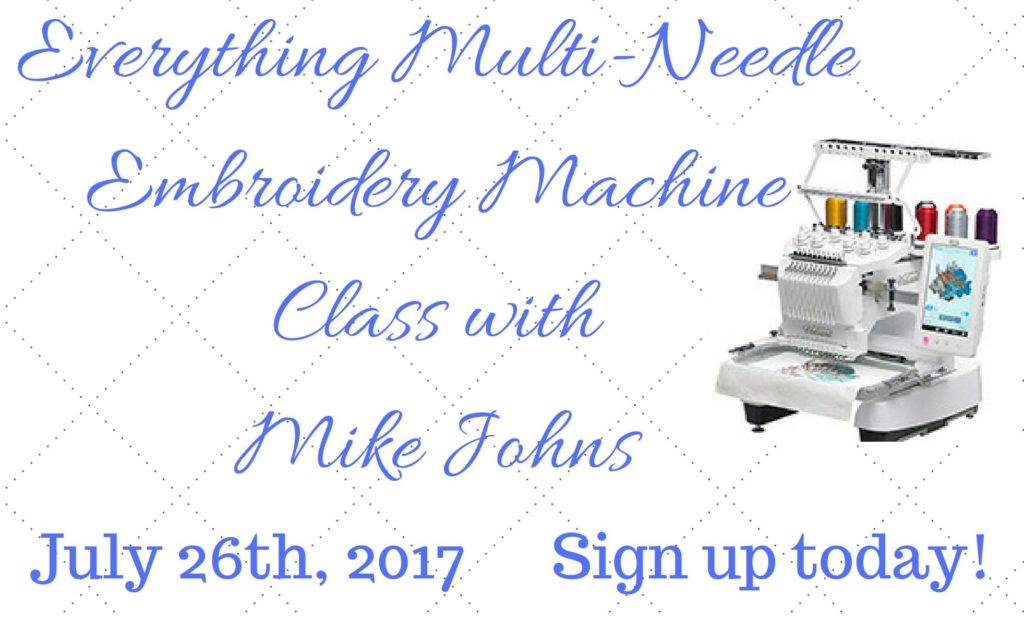 July 26th, 2017
Everything Multi-Needle with Mike Johns
Have you recently purchased a new multi-needle machine?  Have you owned one for a while but have unanswered questions on how to use it to its full potential?  Or maybe you have just been thinking about stepping up from a single-needle machine to a multi-needle.
This class is just for you!  Mike will show you just how fun it is to create amazing and fun projects while taking full advantage of all the wonderful features loaded into these incredible machines.  We will cover threading, routine maintenance, hooping, perfect placement, IQ Designer, and much, much more.  This class is perfect for everyone, even if you are brand new to the world of embroidery.
In addition to teaching you the basics of multi-needle embroidery machine, Mike will show you how to use embroidery software to create beautiful projects from start to finish.  This is a FREE CLASS and as always a delicious catered lunch will be served.
---
July 31 – August 2nd ONLY 198.00 3 DAY HANDS ON CLASS
Ruthies notions 1st ever hands on class with Zandra from South Africa and Lori Hernandez. You will set to do three exciting projects on your Destiny or Ellisimo.
You will need to bring your sewing tools and we will have thread you can purchase. You will also need to bring your embroidery machines and the arm. The kits will be provided with the fabrics you will need to complete the project.
You will do a beautiful Hibiscus flower, a sun flower, and Butterflies. You will love this class and it also includes a free catered lunch each day!
Sign up online or please call our shop 850-537-9257 or Ruthie 850-830-4815
---
Christmas in July
Ruthies Notions in Baker Fl is hosting an exciting Christmas in July class with Zandra Shaw from South Africa! Lori Hernandez and Mike Johns will be teaching exciting Christmas projects too!  This class will be held July 27 – 29th. It is pick a day every day is the same. You will recieve a gift worth $100.00 and this is our early christmas present from our hearts to yours. This one day class is free so SIGN UP NOW BEFORE ALL THE DAYS ARE FULL! This also includes a free catered Christmas dinner each day!
---
At Ruthie's Notions we would love to help you customize the awesome Baby Lock package of your dreams. We specialize in Baby Lock Embroidery, Sewing, Quilting Machine and Sergers. Each person has different needs. Some people have worked hard all their life. They are ready to enjoy sewing and embroidery to its fullest potential. We are a High Performance Baby Lock Platinum Dealer, and #1 Baby Lock Retailer, Single Location, for over 5 years in a row!
Our Baby Lock Classes
We have some of the most creative and educational classes you have ever attended anywhere. You will absolutely love all the classes we have planned for you and yours this year! Each one is quite different and exciting. Our customers love them. We are here to help you learn how to use your machines and make beautiful things with them.
If you are planning to start a business or already have one, we offer some of the best classes out there to start a business. We will provide a ton of ideas to get you started right. You would not believe all our customers who have started successful businesses of their own!
To view all of our upcoming Baby Lock classes CLICK HERE.
At Ruthie's we are always offering sales and specials on Baby Lock Machines. Check back often to view all of our Sales and Specials.
David Barnhill, Ruthie's son, is a trained Baby Lock Technician. Servicing Baby Lock machines on a regular basis will help keep them running right and at their best potential possible.