At Ruthie's Notions we would love to help you customize the awesome Baby Lock package of your dreams. We specialize in Baby Lock Embroidery, Sewing, Quilting Machine and Sergers. Each person has different needs. Some people have worked hard all their life. They are ready to enjoy sewing and embroidery to its fullest potential. We are a High Performance Baby Lock Platinum Dealer, and #1 Baby Lock Retailer, Single Location, for over 5 years in a row!
Our Baby Lock Classes
We have some of the most creative and educational classes you have ever attended anywhere. You will absolutely love all the classes we have planned for you and yours this year! Each one is quite different and exciting. Our customers love them. We are here to help you learn how to use your machines and make beautiful things with them.
If you are planning to start a business or already have one, we offer some of the best classes out there to start a business. We will provide a ton of ideas to get you started right. You would not believe all our customers who have started successful businesses of their own!
To view all of our upcoming Baby Lock classes CLICK HERE.
At Ruthie's we are always offering sales and specials on Baby Lock Machines. Check back often to view all of our Sales and Specials.
David Barnhill, Ruthie's son, is a trained Baby Lock Technician. Servicing Baby Lock machines on a regular basis will help keep them running right and at their best potential possible.
---
Ruthies has it going on with the lowest prices ever on Babylock 10 needle Valiants, Destiny ll's, and Ovation sergers. Plus 60 month financing to qualified buyers. This sale is going on now. YES YOU READ THAT CORRECT RIGHT NOW! We have special bonuses with our machines for our wonderful Men and women who serve and fight for our country. Come in today you will be so glad you did!
---
Featured Classes
Everything Embroidery Retreat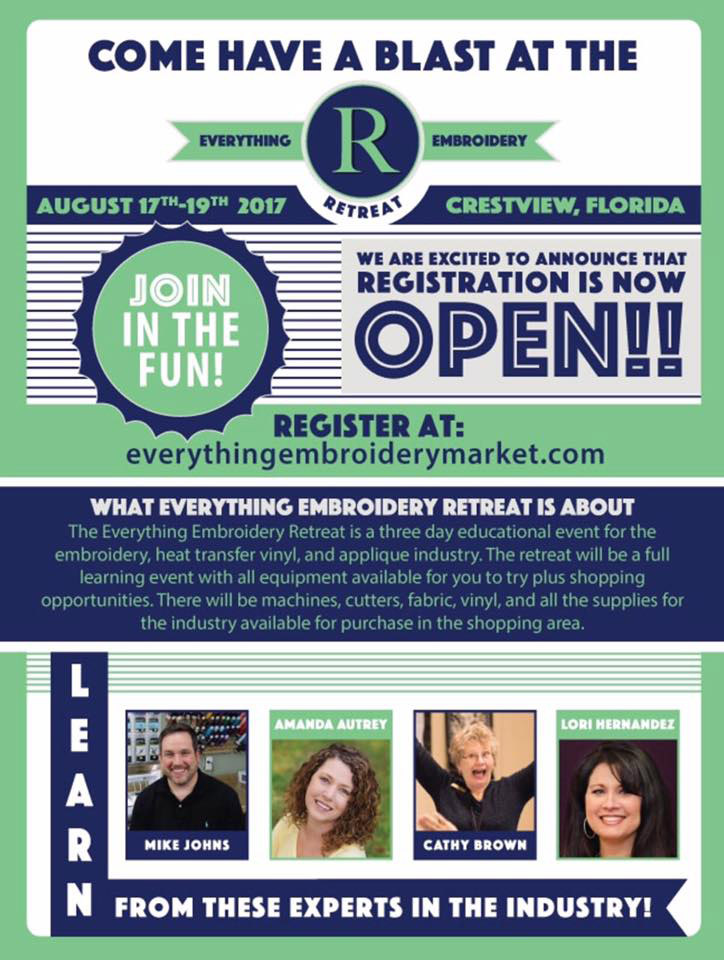 Go to
everythingembroiderymarket.com
to register only $129.00 for 3 days and includes a catered lunch each day.
P.s. Dont miss the early bird registration that is only $99.00 untill june 30th. 
Ruthies notions is joining  with Everything Embroidery Retreat in Crestiview, Florida at the community center for the most exciting 3 day event ever! Plus we are giving away a Babylock Alliance.
We also have Zandra Shaw, from South Africa who is doing alot of brand new designs for the Cameo Silhoutte along with teaching you exciting ways to use your embroidery machines to embroider  like you never saw it done before!
Lori Hernandez, Mike Johns,Cathy Brown, Joan Clemmons, and Amanda Autrey will teach awesome ways to do the Cameo Silhoutte too! Plus how to use the software, do appliques,and embroidery. You will be amazed at all you will learn at this HUGE 3 DAY EVENT. 
---
July 31 – August 2nd ONLY 198.00 3 DAY HANDS ON CLASS
Ruthies notions 1st ever hands on class with Zandra from South Africa and Lori Hernandez. You will set to do three exciting projects on your Destiny or Ellisimo.
You will need to bring your sewing tools and we will have thread you can purchase. You will also need to bring your embroidery machines and the arm. The kits will be provided with the fabrics you will need to complete the project.
You will do a beautiful Hibiscus flower, a sun flower, and Butterflies. You will love this class and it also includes a free catered lunch each day!
Sign up online or please call our shop 850-537-9257 or Ruthie 850-830-4815
---
Christmas in July
Ruthies Notions in Baker Fl is hosting an exciting Christmas in July class with Zandra Shaw from South Africa! Lori Hernandez and Mike Johns will be teaching exciting Christmas projects too!  This class will be held July 27 – 29th. It is pick a day every day is the same. You will recieve a gift worth $100.00 and this is our early christmas present from our hearts to yours. This one day class is free so SIGN UP NOW BEFORE ALL THE DAYS ARE FULL! This also includes a free catered Christmas dinner each day!