---
---
Ruthies  Awesome Brother Duo package of your dreams!
Buy a top of the line Brother 10 needle 1050x and get a PERSONA free YES FREE!
The most incredible business package ever or just love embroidery this package is for you!
Save over $7,000 off! YES! This week only!
60 month financing no interest equal pay to qualified buyers.
---

Ruthies Brother's Specials This Week Only!!!!
Brand new Brother 10-Needle Entrepreneur PR1050X Deluxe Package.
Save over $7,800!! Hurry this sale will not last long and we only have a few at this price!!
Brand new Brother Dream Machine II Deluxe Package! Save over $7,200!!
Brand new Brother 6-Needle Entrepreneur Plus PR670E! Save over $5,000!!
---

Ruthie is celebrating with the most awesome sale ever! Buy the brand new Destiny II and receive  a Triumph 8 Thread Serger FREE!!!!
This serger threads all 5 needles with RevolutionAir and self threads all the loopers and chain stitch too! It also does 87 different combinations of stitches.
Receive lots of goodies too!!
Plus we are offering 60 month financing to qualified buyers. No interest, equal pay.
---
»» FEATURED CLASS!! ««

The most awesome event ever!!
Ruthie's 50th Anniversary Class with Pamela Mashie and Mike Johns. This coming Friday Sept 22nd or Saturday 23rd – Pick a day!! Same class both days!!
***We will be giving away an Imagine Serger, the #1 seller 4-thread Baby Lock Serger, to someone who attends the event!***
Don't miss out!!  
Seating is vey limited! You snooze you loose, SIGN UP NOW!!!
Enjoy the very best country home style dinner with all the fixins' and red velvet cake and homemade cookies! Super charged – Praise the Lord!!
This is the most awesome event ever held at Ruthies! Pam Mashie – Baby Lock's National Spokesperson – will be here to dazzle you beyond words as well as Mike Johns who everyone loves!!
We will be giving away a Baby Lock Imagine Serger on September 23rd at 4:00 to someone who attended either day. You do not have to be present to win! Plus – we will be giving away door prizes both days!!
---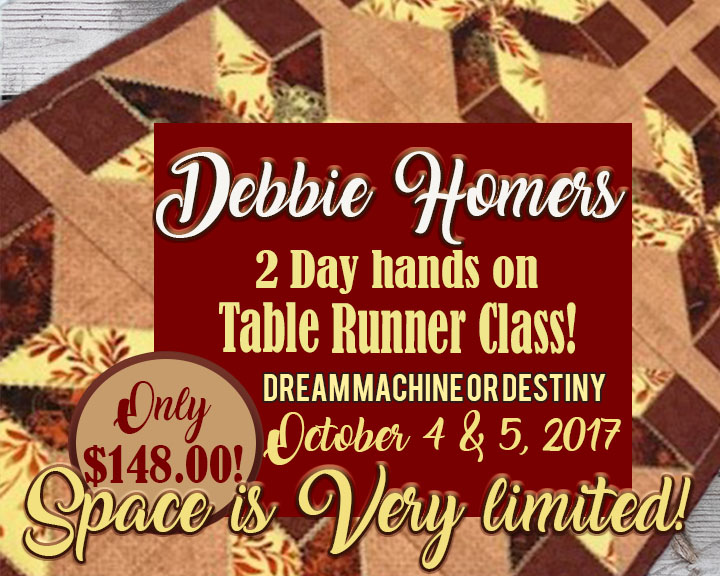 Ruthie just put up a 2-Day event only $148.
Hands on Debbie Homer class with your Baby Lock Destiny or Brother Dream Machine. This is an exclusive class Debbie has designed just for you!!
You will LOVE IT! Don't miss an opportunity like this to really learn how to use your embroidery / sewing machines to the max at Ruthies Notions in Baker, FL.
So excited Debbie Homer-Hofhines is coming back to Ruthie's!!  Debbie will do a 2 day hands on class making a beautiful Table Runner for your fall décor using Scan n Cut and features on your machine you didn't know where even available.  You will be piecing all the blocks in the hoop including all the quilting and then joining together with Debbie's method of joining. Learn how to miter corners the easy way, and binding using features on your machine.  You won't want to miss this opportunity to have fun and learn new techniques.  Space is very limited for the hands on class; there is only room for 25 people, so you will want to sign up fast.  Kits will be provided in the class fee of $148.00, you bring your own machine.
---
»» MACHINE SALES OF THE WEEK!! ««
---
Baby Lock 50th Anniversary Special! Brand New Triumph Serger Deluxe Package on sale NOW! Savings of up to $1,700 MSRP!!
60 month financing available to qualified buyers!! Don't miss this incredible deal!! Contact us today!
---
Ruthie just got a Big Shipment in of brand new Destiny II's, Valiant's, and the brand new Triumph Serger from Baby Lock!!!
Once a year at Baby Lock Tech, we get the opportunity to receive excellent pricing on machines. So now we are passing it on to you!!!
Plus we are offering 60 month, no interest equal pay, to qualified buyers!
~ ~SPECIALS~ ~
Buy a Destiny II at MSRP and get a brand new Baby Lock Triumph for FREE!!
Save over $7,000!!! WOW!!!
Buy a Triumph Deluxe Package and save over $1,700.00!!
Buy a 10-Needle Valiant Deluxe Package and save over $7,000!!
Can You Stand It!!!
Buy a Destiny II Deluxe Package and save over $2,700.00!!!
Hurry in! We only have a few machines at these HUGE SAVINGS!! Don't forget, we are offering 60 month financing, no interest equal pay, to qualified buyers!!
---
Ruthie has the Brother Scan N Cut CM650W on special THIS WEEK ONLY!! Don't miss out on this great deal!!!
---

Ruthie has Brand new Baby Lock Valiants, in the box at the best prices ever! 60 month financing to qualified buyers.
---

We are offering the LOWEST prices of the year with the biggest discounts EVER on the Baby Lock Destiny II. 60 Month financing available!
---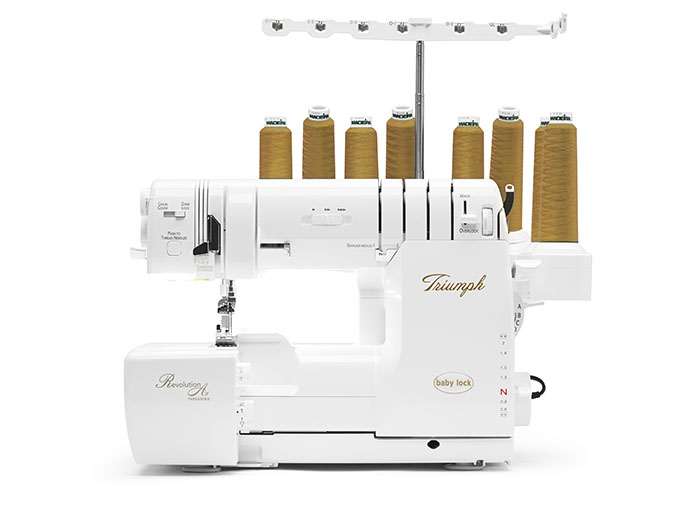 Praise the Lord on High for blessing us with a new outstanding Baby Lock Serger!
Wait until you experience the new Baby Lock Triumph Serger in person. You will have to buy one and take it home! We will have 60 months no interest equal pay to qualified buyers.
We are selling the brand new Baby Lock Triumph at the best price you ever saw and unheard of Ruthies gourmet goodies too!! Why not trade-in your old Baby Lock in on a new Triumph today! We are taking trade-in's too!!
---
Save over $7,000 off Now!!! THIS WEEK ONLY!!!
60 month financing to qualified buyers. No interest equal pay.
You will love the built in camera to get your placement of design just right. My Design Center, you can be so creative!!!! Why wait? Come to Ruthies Notions today and get your new Brother PR1050X.
---
Deluxe Dream Machine II Package!
Huge Savings of over $7,000 off now! THIS WEEK ONLY!!!
You will love My Design Center to create your own designs and stippling in so many different combinations! The camera will help you with booboo's and save you from so many mess ups.
You will love how creative you can be Praise the Lord!!!!
Don't delay! Contact us or stop in today!!
---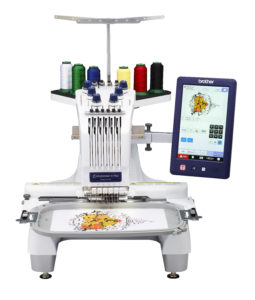 Don't pass this up!! We only have 1 brand new Brother Entrepreneur 6-Plus PR670E 6-needle embroidery machine left!! Hurry before it's too late!!
---
---
**Learn how to do a big Embroidery Business from home or add to your existing business you have now!!**
Even if you have a vinyl business, you can add so much to it!
We will help you with classes and training with the best teachers in the industry today! We have a multitude of customers who have very successful businesses. Wait until you start coming to Ruthies and be blessed beyond measure. Praise the Lord!!
---
Ruthie and her son David Barnhill were so grateful to the Lord to receive an award for
#1 Baby Lock Dealer for the USA for a single location for 2016 at Baby Lock Tech this year.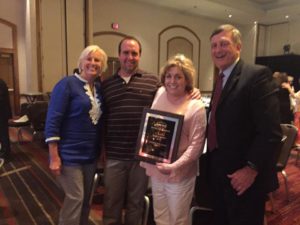 We are excited about all the new Baby Lock machines we have to offer you now including the BRAND NEW TRIUMPH 8-THREAD SERGER. This machine threads all five needles. We have them available now at Ruthies in Baker FL. Why not come see how awesome it is today. We have the best Triumph deluxe package you ever saw as well as all the goodies that come with it too!!
---

Ruthies Notions in Baker FL has awesome classes planned all the way thru the end of the year into the New Year! Visit our classes page often to see what all we have going on for you and yours! It's never a dull moment around Ruthies with all the new hands on classes! So many classes are out of this world wonderful! Just ask all the people who come!!
To sign up for any of the following classes just simply click on the "Register" link under each one.
---
UPCOMING CLASSES!!
---
Multi-Needle Training Class
September 26th, 2017
10:00 a.m. – 4:00 p.m. – Doors open at 9:00 a.m.
Have you recently purchased a Multi-Needle Embroidery Machine and need help learning your new machine?  Well this is the class for you!  Mike will walk you through everything you need to know from setting up your machine to daily maintenance to understanding all the wonderful built-in features of the machine.  We will cover both Baby Lock and Brother six and ten needle machines as well as the Baby Lock Alliance and Brother Persona, so not matter what machine you have, or even if you are just thinking about buying one of these machines, you are sure to get something out of this class!
This is a free class and a wonderfully, fully catered meal will be provided.
Space is limited, so be sure to sign up today!
---

Ruthies Baby Lock Triumph Behind the Seams Live Stream Event
Benefiting Little Dresses for Africa
September 30th
10:00 a.m. – 3:00 p.m. – Doors open at 9:00 a.m.
We will be live streaming the Baby Lock Triumph Behind the Seams Event from Ruthies Notions in Baker, FL.
Learn how serging is going to change forever with the Baby Lock Triumph. Watch with us as Baby Lock introduces the Triumph on Facebook Live with Mimi G of Mimi G Style and Lindsay Wilkes of the Cottage Mama. They will showcase the Triumph's features and give you an exclusive look at what makes it so special. Plus, Rachael O'Neil of Little Dresses for Africa will share how the little dresses you can sew and donate make such an impact on girls all over the world.
Bring your machines and help us sew!! Let's make these girls some dresses!!!
We will also be having a pizza party during the event.
Don't miss this opportunity!!
---
Learn Machine Techniques and Features
Plus Debbie Homer will do an all day class lecture demo October 6th and on October 7th will teach with Mike Johns too!!
This is our gift to you these 2 days are FREE!!!!
Debbie will be teaching with Michael Johns doing techniques, features on machines to use in your everyday sewing and embroidery.  We learn from each other, come and join the fun and of course always good food that Ruthie provides.  Hope to see you all!!
(register for Oct. 7th below)
---

Ultimate Cutter and Software Class
Come and join Mike as he teaches you all the wonderful things you can do with the Cameo Silhouette, Brother Scan N' Cut, Designers Gallery (DG) Embroidery Works Everyday and Advance, DG Creator and BES 4 Dream Edition.
With the addition of software and a fabric cutter, there is noting you can't make! Personalize your projects with beautiful monograms and lettering with just a few simple steps!  Simplify the process of creating and sewing appliqué!   Come up with unique gifts by designing your own embroidery projects!  During the class Mike will walk you through several embroidery projects that will combine the amazing capabilities of the Baby Lock and Brother machines with your fabric cutters and software.  This is sure to be a fun and exciting class.  A wonderful catered lunch will be provided.
Space is limited to sign up today!
---

Ruthies Notions Anita Good Design Event Ruthies way!
Featuring Kim Novak and Mike johns
Anita's University is pick a day and this event is FREE! You will recieve a gift worth over $500.00 value. Plus a homestyle country dinner each day. Where can you get this class free anywhere else??
Nobody likes to be behind in class. Lets get way ahead & come to Ruthies Anita's University Ruthies Way and get schooled on everything the machines can do! You will be amazed at all you can do with Embroidery, Sewing, Serging, and Quilting. Come to class and don't be late!
Pick a day now before we are all filled up – seating is limited.
Same class each day!
Hope to see you all here at our Anitas University!
Click here to view the Anita's University Syllabus
---

October 17-18, 2017: Two Days Hands-On Serger Event with Mike Johns
Come and join Mike for this wonderful two-day hands-on serger event that is perfect for everyone from the novice to the more advance user.  During class we will make a fun and exciting project from beginning to end all while taking advantage of the incredible features of our wonderful sergers.  Prior to the class, each attendee will be provided with a list of any additional items, including specific feet/attachments that participants will be asked to bring.  The cost of the class it $88.00 and includes your kit which contains all of the fabric required to complete the project.  This will definitely be a fun and exciting class that you don't want to miss!  A wonderful country style meal will be provided each day!  Space if extremely limited to sign up today.
---

Full"fill" Your Embroidery Potential
Join Cathy Brown, Baby Lock Certified Ambassador of Education for a two day Destiny hands on class to create two beautiful accessories for you to treasure or to give as gifts. The wallet and journal/notebook cover are created all in the embroidery hoop and you will create the design! Along the way you will learn how to bring out intricate designs built right into the design creation feature of your machine! The design options are endless and surprisingly easy to personalize once you know the secrets.  As always, the kits will be high quality materials with options to make your project look exactly how you like it and the class will include complete step by step instructions. This class is suitable for beginners and experienced embroidery enthusiasts alike.
---

Bring it All Together
You will have a great time. You will laugh out loud. You will learn lots of sewing and embroidery and serger and quilting tips and tricks. Join Cathy Brown, Baby Lock Certified Ambassador of Education as she lifts our spirits with inspiring samples, gift ideas and interesting techniques. This isn't just a seminar with a wide range of topics that will inspire you no matter what your level of experience is. This is a party. This is the most fun you can have with your sewing friends. (So bring a friend or make new friends.) Treat yourself before the Holidays get into full swing and we guarantee you will be glad you came.
---

December 7-8, 2017:  Thread Painting with Joyce Hughes
You don't want to miss this amazing hands-on class with Joyce Hughes!  Joyce is an amazing award winning fiber artists that uses her embroidery machine to create breathtaking fabric panels and quilts using raw-edge appliqué, thread painting and other various embellishment techniques.  During this two-day class she will walk you through the process of creating a one-of-a-kind piece of art using your embroidery machine!  You will be provided with the printed fabric panel and fabric/supply kit to use in class.  You will bring your machine and accessories (a full list of items you are required to bring will be provided).  The cost of the class is $248.00. Early Bird Registration for this event will be $148.00, but only for a limited time.   Space is extremely limited for this class, so make sure you sign up today so you don't miss out!  As always, a delicious catered lunch will be provided each day.
Want to learn Dimensional Thread Painting but you think it is too hard. I often hear, "I am not creative and Can my Machine do this? etc., etc., Yes, You are Creative and Yes, you can do this on your Domestic Sewing Machine!!!
In this class you will start with a Beautiful Panel to Create a piece of Art! You will learn the proper steps of Dimensional Thread Painting and find it to be a fun and creative technique. Explore the various thread selection, setting up your machine for stitching techniques with free motion quilting of zig zag and straight stitching, bobbin work and embellishing with netting and crystals. See the fabric come to life as you sew and layer the threads on top of your design. You will use Thread as Paint –sew with different types of threads and color combinations.  Learn how to create interesting texture and dimension to your quilting project. You will leave with a full knowledge of Dimensional Thread Painting and create a One of Kind piece of Art!
Techniques Taught: Free Motion Quilting, Dimensional Thread Painting, Overlay Application, Chrystal Embellishment and Bobbin Work and More!
SupplyList:
Joyce Hughes –"Starry Night" Thread Painting Wall Hanging
Machine
Machine in Good working order, cleaned and oiled. Please bring your manual to class to help diagnose any machine related problems.
Free Motion foot/ Darning foot (Machine and foot must be able to do a zig zag)
Supplies
Extra bobbins, minimal 4
Scissors
"Practice" quilt sandwich  12" x 12"
FMQ supplies; such as gloves, slider , table, etc, are helpful , but not necessary
Needles
#90 Topstitch
#80 Topstitch
Joyce is an Award Winning self-taught quilter and fiber artist. Her first quilt was a tee-shirt quilt, which she enjoyed making, but felt limited in the ability to express her artistic capabilities. Within several months, she began to design pictorial landscape quilts using raw edge applique, thread painting, and a variety of embellishments. Never knowing the "rules" she broke a lot of them, but with exciting results!
Amazingly, her first art quilt, "Mother's Day", was entered into a National Show and won a Blue Ribbon. This has led to numerous awards, recognitions and opportunities in the quilting world. One Proud accomplishments of Joyce's, in October, 2012, she was selected as "McCall's Quilt Designer 2012 – Professional Category" for McCall's Quilting Magazine.
Joyce loves to Free Motion Quilt and Thread Paint.  Currently, Joyce has been working with Fabric Panels to create dimension and texture with threads and embellishments- Creating a style of her own!  Joyce loves to teach and share her tips. One of her Greatest accomplishments is when a student creates their own Art work following Joyce's techinque.of Dimensional Thread Painting!
---
Ruthies Notions is now a FULL LINE BROTHER DEALER!!!
We have the very best prices you ever saw. Plus – no-one else gives you all the goodies we do plus the excellent training and classes that we offer. You can go home and start sewing or embroidering right away! Check out our available Brother machines.
We offer awesome financing (to qualified buyers)!!
Hurry in today!! Don't miss all our special prices going on NOW!!! Click here for our Brother Machine Sales and Specials.
---
We Are Here To Help
At Ruthie's Notions we would love to help you customize the awesome Baby Lock or Brother package of your dreams. We specialize in Brother and Baby Lock Embroidery, Sewing, Quilting Machine and Sergers. Each person has different needs. Some people have worked hard all their life. They are ready to enjoy sewing and embroidery to its fullest potential. We are a Brother and High Performance Baby Lock Platinum Dealer, and #1 Baby Lock Retailer, Single Location, for over 5 years in a row!
Our Baby Lock and Brother Embroidery and Sewing Classes
We have some of the most creative and educational classes you have ever attended anywhere. You will absolutely love all the classes we have planned for you and yours this year! Each one is quite different and exciting. Our customers love them. We are here to help you learn how to use your machines and make beautiful things with them. Located in Baker FL., we are not that far from Crestview, Fort Walton Beach, Destin, or even Panama City!
If you are planning to start a business or already have one, we offer some of the best classes out there to start a business. We will provide a ton of ideas to get you started right. You would not believe all our customers who have started successful businesses of their own!
To view all of our upcoming Brother and Baby Lock classes CLICK HERE.
At Ruthie's we are always offering sales and specials on Brother and Baby Lock Machines. Check back often to view all of our Sales and Specials.
David Barnhill, Ruthie's son, is a trained Baby Lock Technician. Servicing Baby Lock machines on a regular basis will help keep them running right and at their best potential possible.