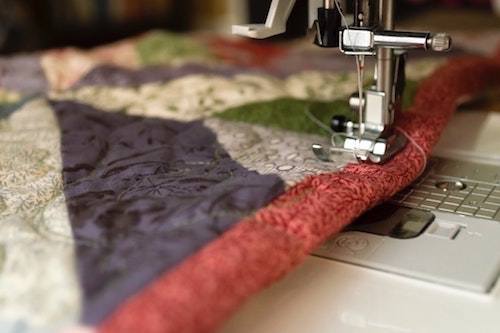 Would it surprise you to learn that quilting is a very expensive hobby? If you make your living as a quilter, you already know this!
The typical serious quilter owns $13000 in quilting tools and supplies, like thread, needles, quilter gloves, etc. and $6000 in fabric.
Are you a quilter? Do you own reams of fabric and an expensive quilting machine? Do you make or watch machine quilting tutorials? Did you know that you can use a standard machine for free motion quilting?
If you are new to free motion quilting (fmq quilting), you'll be eager to learn. A quilter at any skill level can learn free motion quilting. To help, you could always find classes near you for quilting and other techniques. Here's everything you need to know as a beginner.

Guide to Free Motion Quilting
Free motion quilting might sound daunting to you if you've spent years making straight-line quilts. Don't worry. We've got you covered.
What is Free Motion Quilting?
FMQ quilting is a quilting technique where you add stitches to the surface of the quilt by sewing in any direction.
When using a standard machine, you have to disconnect the feed dogs and switch out the foot to give yourself the range of motion necessary.
If you are unable to disengage the feed dogs on your machine, you can use a Supreme Slider. This product enables your quilt to glide on the slippery surface it creates.
Use a Large Table to Hold the Quilt
The quilt needs to be on a level surface so that it doesn't slide and pull the stitches.
Tip: When using a standard machine, a drop-in table is your best option. Drop the machine in so that it is flush with the table.
Practice Makes Perfect
Don't jump right into making a large quilt. Practice first on scraps or smaller projects.
Do you have a certain free motion quilting pattern in mind? Try it out first to get the hang of it.
Some small project suggestions are potholders, a baby quilt or even a table runner.
What Does It Mean to Sandwich a Quilt?
A quilt sandwich consists of a top layer, the batting, and the quilt backing. These layers to together with basting stitches.
Once the quilt is basted, you can move on to the main seams.
Stitch the Main Seams
For this step, use the walking foot to stitch all of the main seams of your quilt.
Follow a plan or sequence. Test the tension of your thread as you go. If you are concerned about the tension allowing the bobbin thread to poke through, use the same color thread for the top and bobbin.
Quilt With Feed Dogs Up or Down Depending on Your Machine
In most instances, FMQ calls for lowering the feed dogs. This is so it doesn't interfere with the fabric motion. There are some new machines that require the feed dogs to be up while free motion quilting.
Once you find the proper way to do it on your machine, gently move your quilt under the needle to create the free motion pattern you desire.
Expanding Your Creativity
Now that you've learned more about free motion quilting, are you ready to try it? We at Ruthie's are here to help you expand your creativity. Contact us for all of your sewing needs.