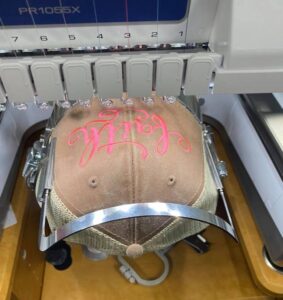 For a creative crafter, it can be difficult to take the step into selling your products and building a business out of them.
But embroidery is a growing trend in the art department right now. You can find embroidered pieces on jackets, as a wall hanging, and even on umbrellas.
So, if there's any time to take a risk at starting an embroidery business, it's now. But while you enjoy sewing and embroidery projects, you're not sure where to start with creating a serious business to sell your products from.
What kind of product is the most in-demand? What kind of equipment will you need to get off the ground?
The answers to these questions, and more, are right here. Keep reading, and soon you'll be making all your favorite products and building your embroidery business into a reality.
What Supplies You'll Need
Before you can get your business up-and-running, you'll want to have a designated space to create your pieces. Maybe you already have a craft corner in your home.
Or, maybe you want to look into renting an office space. However, this can bear a heavy cost, especially while your business is still young.
Once you find the perfect space to sew your products, you'll want to make sure you have a quality embroidery machine.
Your business will be reliant on this machine so that you can produce products more quickly, so it's crucial to do your research before purchasing.
There will be an initial cost for supplies when you get started. You'll want to make sure you have a bit of stock on-hand and ready to go when you start receiving orders.
Finding Your Customer Base
As you establish a website and social media platforms, you'll want to consider your target audience.
What kind of customer is the most likely the buy your products? Or, what kind of people do you want to buy your products? The answers to these questions may be different, so it's important to consider where the crossover is.
Some potential markets that are looking to purchase embroidered merchandise could be sports teams or charities looking for t-shirts and hats.
Even restaurants may be looking for a quality company logo designer to embroider their uniforms.
When you're first getting started, keep your market close to home by selling to relatives. You can share the pieces you make on social media, or you can take personal commission orders from coworkers and friends.
What Items to Start With
If you're wondering what sorts of items you can start making that are sure to sell to an interested customer, the options range far and wide.
For the trendy hipster looking to decorate her apartment, wall hangings depicting plants or pastel colors are the perfect addition.
Embroidering fabric purses and placemats are also great canvases to have fun with abstract designs and bright colors. There are also other home decor items like pillowcases and blankets that can be a great accent to any bed or couch.
These items are also good options for newcomers looking for easy tips for embroidery for beginners.
Starting an Embroidery Business
Starting an embroidery business may be daunting right now, but you're preparing and researching just by being here. Soon you'll be ready for your business to take off.
If you're looking for more guidance, embroidery machines, supplies, or to take a class and enhance your skills, you can head to our website to find everything you'll need.