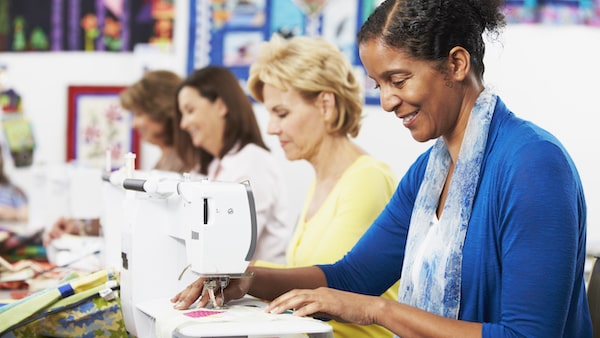 Did you know the most expensive quilt ever purchased was the "Reconciliation Quilt", which sold for $264,000 in 1991? The quilt depicts scenes from a woman's life before, during, and after the Civil War.
Maybe you aren't interested in trying to produce extravagant quilts. But, perhaps you have considered taking sewing classes to brush up on your old Home Ec. skills?
If you've thought about taking a sewing class but aren't sure if you should, or how to do it, read on! This article will thread together answers for all of your sewing class questions.
Should I Take Sewing Classes?
The simple answer to this question is: yes! Creating something with your own hands draws an unparalleled sense of satisfaction. Besides simply being fun to do, sewing has many benefits.
Whether you are hand sewing or machine sewing, sewing can help improve hand-eye coordination. While you sit at your machine or experiment with a hand-sewing technique, you have time to practice proper posture.
When you lose yourself in a sewing project, you can experience a meditative-like state. Focus and relaxation help lower blood pressure, improve your mood, and boost the immune system.
What Can I Learn To Sew?
To cite a cliche: the possibilities are endless! Clothes, quilts, bags, toys, gifts, decor, and more. The better question is what CAN'T you sew?
If you want to sew clothes, you could start by following basic patterns and then graduate up to creating your own patterns. If you want to customize your home, throw pillows are easy and add a unique flair.
A sincere and warm way to welcome a new baby to the earth is with a handmade baby blanket. You could sew homemade holiday gifts to show your loved ones you care.
For sustainable projects, turn laminated fabric into reusable lunch bags or shirts from the thrift store into a one-of-a-kind quilt.
How to Find a Sewing Course
Hopefully, you've been convinced to try sewing classes. Now, where to find them?
In the age of technology, you don't even have to leave your house to find a sewing course from a sewing teacher. Classes on line range from simple to expert, meaning there is a class for everyone! If you're looking for project-specific instructions, there are tutorials on YouTube for just about everything.
If you'd like an in-person course, your local sewing supply store is the place to start. You can find sewing for beginner classes or one-off events where you'll walk away with a finished project. Call the closest sewing store for more information about their offerings.
Your Sewing Adventure Awaits
There is no better time than the present to learn to sew. With sewing classes online and in-person, for beginners and for experts, there's no reason to delay.
For Baker, Florida locals, the sweetest place to learn to sew is Ruthie's Notions. We have all of the supplies, classes, and machines you need to get started. Contact us today to see what we have in store for you!