Presenting the Flourish II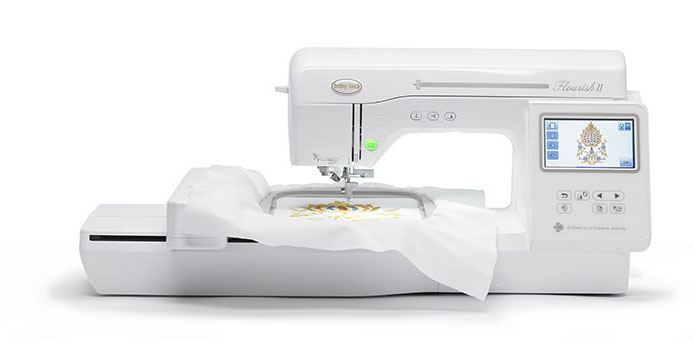 With the new Baby Lock Flourish II, you can add your own uniques touches to every project you have in store. The Flourish II is powered by Baby Lock IQ Technology and is packed with user friendly features.
The Flourish II allows you to easily edit deigns, embroider fonts plus more. Your creativity and embroidery skills will reach new heights with the Baby Lock Flourish II.
Baby Lock Flourish II Features:
Color LCD Touch Screen (4.85″ x
2.5″)
Advanced needle threading system
Automatic thread tension control
Automatic thread cutter
Quick-Set, top loading bobbin
Quick-Set bobbin winder
Automatic sensors
Plus much more……
Optional Accessories:
Feet & Attachments
Bobbins
Hoops
Plus more…..
If you are interested in the Flourish II and have further questions, please contact us today. We are here to help you decide which machine will best suit your needs.