Take Your Embroidery to the Next Level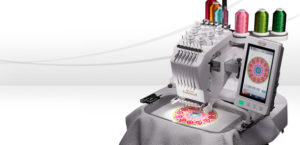 Take your creative journey to the next level with the Baby Lock Endurance II embroidery machine. The six-needles on this machine work together to provide you with an efficient embroidery experience.
With the Baby Lock Endurance II you will be able to make quick auto-adjustments with features from Baby Lock IQ Technology™. Baby Lock IQ Technology™ is what makes you machine so smart and efficient. The IQ Technology works with the "brain" of your machine to help achieve exactly what you desire.
Try the Baby Lock Endurance II machine and enjoy a hassle-free embroidery experience for all different types of projects. Whether you are looking to embroider large designs, finish more projects or even start your own business, the Endurance Six-Needle Embroidery Machine will keep you going strong.
Baby Lock Endurance Features:
TruView™ ASV© LCD Touch Screen in HD
Six Efficient Needles
Needle Beam for Embroidery
On Screen Editing Capabilities
Embroider at 1,000 SPM
33 Built-In Fonts
4 Hoops Included
Convenient Bobbin System
3 USB Drives (2 Type A, 1 Type B)
Baby Lock IQ Technology™
Baby Lock Endurance Optional Accessories:
Round Hoop Set
Quilt Hoop
Extension table
Metal Stand
Baby Lock Stabilizer
plus more….
If you would like to learn more information on the Baby Lock Endurance II Six-Needle Embroidery Machine and if it the right for you, contact Ruthie's Notions. We will help you determine if this is the best machine for you and your needs.