It's Time to Renew Your Creativity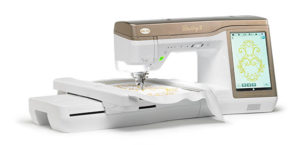 The Baby Lock Destiny II sewing and embroidery machine embraces the future of sewing. This machine offers a larger work space and a tablet-sized screen. It also comes with an impressive selection of built-in stitches and embroidery designs along with new, smart features powered by Baby Lock IQ Technology to make every step of your projects easier than ever before.
With the IQ Designer you can instantly digitize your hand-drawn, scanned or imported artwork and then edit your designs down to the stitch. You can also draw your own stippling and choose to quilt in or around designs.
Baby Lock Destiny II Features:
IQ Designer
Decorative Fills
90 Embroidery Shapes
TruView LCD HD Touch Screen
Embroidery Editing Resizing & Grouping
Color Visualizer
11.25″ to the Right of the Needle
Needle Beam
NeedleCam™
Sensor Pen
Positioning Stickers
Digital Dual-Feed & Decorative Couching Sole
Stadium Lighting
Multi-Function Foot Control and Knee Lift
Hoops for Every Occasion — Up to 9.5″ x 14″
The Baby Lock Destiny II sewing and embroidery machine comes with a number of other accessories. To learn more about this machine or other Baby Lock machines, contact Ruthie's Notions today.